Expert Tips on Building Your MBA Profile
In order to stand out when applying to business schools, you'll want to create a strong and authentic personal brand in the lead up to working on your main application tasks.
This is because MBA admissions committees are looking for a certain type of student: one who is professionally motivated and personally passionate, with strong academics and interpersonal skills, a history of leadership and extracurricular involvement, and a demonstrable desire to pursue an MBA at their program.
Some of this will come out in the application essays and admissions interview, but you can give your overall application a boost by cultivating the right profile at the start of your MBA journey. Getting started can be a daunting task. But given time and planning, you can develop a fantastic MBA profile that admission officers at your target business schools will remember.
Early Preparation
Once you've decided that you want to pursue business school in the near future, it's critical to get started on your MBA profile as soon as possible. To write that awesome application that admissions committees are looking for takes time, and there is no better moment than the present. When you start early, you can get the ball rolling on volunteer work, professional opportunities, and school extracurriculars all in the name of boosting your overall MBA profile.
One other benefit of early preparation is the flexibility extra time will give you for tackling the more time-consuming aspects of your application. Keep in mind that you can't change details like your undergraduate degree or GPA. But with time, you can add on to your record of extracurricular involvement, you can expand your professional horizons, and you can lock down a stellar GMAT score.
GMAT
Speaking of GMAT, know from the beginning that it's very helpful to get your GMAT score out of the way as early as possible. The MBA application itself takes a lot of time and energy: there are countless administrative details, essay writing that demands introspection and storytelling, and an interview process that will put your communication skills to the test. It can be hard to keep up with the work when you're in the thick of it, so we recommend that you take the GMAT early, before crunch time. Keep in mind, that the average scores on various parts of the GMAT can be distorted, so make sure to check how to calculate what to aim for. When you get a satisfactory score, one that aligns with the stats of your top choice for business school, you can check the GMAT off your to-do list forever. Then, you can fully focus on the other aspects of your application without having to worry about studying and scheduling time to take the test.
Your GMAT score is valid for five years, so there is plenty of time for you to finish up all the other aspects of the application process after you take this off your plate. A difference of 10 points can be crucial to whether you get into your dream school or not, so this is not something to take lightly. Do the work, do the prep, and you will be rewarded with securing a high GMAT score.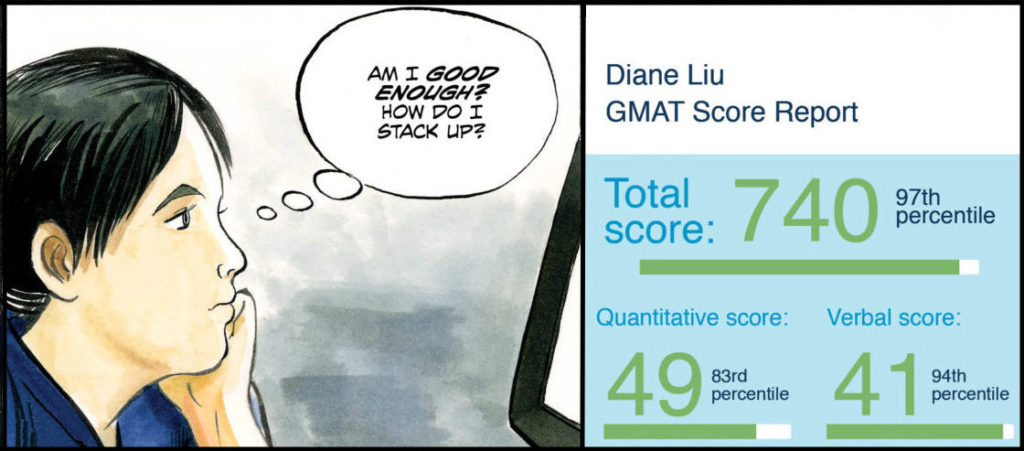 Building Your Resume
One of the most important aspects of your MBA profile is your work experience, outlined on your resume. Schools are looking for applicants with a strong work history to add to their new MBA class, and you need to show them that you are prepared, excited, and ready to jump into whatever the program offers. The admissions committee is looking to cultivate a diverse class with different backgrounds, with each admit being able to bring unique skills and perspectives to the classroom. Your resume needs to represent who you are in a coherent, concise, and thorough way. This is often the very first thing that admissions officers pull from your application, and so your resume represents your best chance to make a great initial impression.
It takes time to build a resume, so start as early as you can to fill in gaps and address any weaknesses. To add some meat to your resume, you can begin a new job to show your capabilities, or you can begin a new project at work to highlight your eagerness to develop in the business world. In general, you should try and show diversity in your pre-MBA experience and ensure that your leadership skills shine through in your list of accomplishments.
Extracurriculars in Your MBA Profile
Another important aspect of your MBA profile is your list of extracurricular activities and involvement. Ideally, this is related to volunteering experiences for a cause that you care very deeply about. Schools are looking for applicants who are going to be active and enthusiastic participants in their MBA program, thus contributing to the success of the program as a whole. As the Director of Admissions at Harvard Business School writes: "Pursue things that are meaningful or exciting to you. Do them well, with energy and, yes, with passion." We think this is good advice: follow your passions, and if you haven't put energy into extracurricular in the past, now is the time to start .

Networking for Business School
Last but not least, we recommend you do some networking to add credibility to your MBA profile. Networking is one of those important soft skills that business school requires of all students, and you should look at the early stages of networking for your profile as practice for what's to come once you're accepted.
The best way to network is to visit the campuses of the schools you're applying to. Once there, talk to as many faculty, staff, students, and alumni that you can. The more you get to know the people on campus, the better your understanding of the personality of the school will be.
In a similar vein, when you are on campus, you are able to learn much more about the school's programs, activities, and what a typical day in the life of a student would be like. With this knowledge you'll be able to ask the MBA admissions committee relevant and intelligent questions, which lets them know that you are truly interested and invested in the school. They want applicants who are excited to attend their program, and when can demonstrate your interest with detailed information about their offerings, they'll feel more excited about you and your application.
In the wake of COVID, there are even more opportunities for you to network. There are school-organized information events, both on- and off-campus, and even virtual seminars and MBA fairs. Make sure to regularly check the websites of the business schools you're targeting to see if there are any virtual events that you would like to attend.
Connecting with students and alumni online is also a great option for those who may not be able to make a campus visit. LinkedIn, for example, provides ample opportunity to find and get in contact with both current students and alumni. Connecting with these profiles and building relationships is key to a successful application.
Build Your Personal Brand for MBA Applications
As you can see, it takes time and a lot of dedicated, hard work to build a complete MBA profile worthy of admission to top business schools. It is never too early to start—preparing for your MBA journey now only relieves stress later on.