Berkeley Executive MBA Program Guide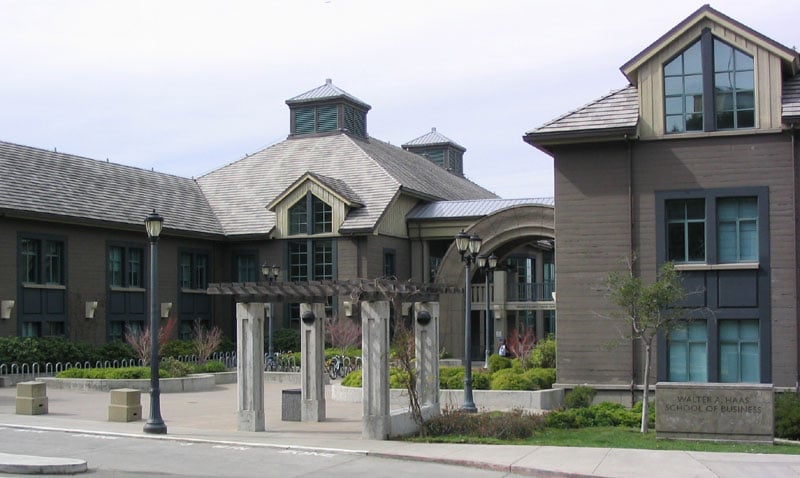 When discussing top business school programs, University of California Berkeley's Haas School of Business is often on the list. This business school offers both a full-time MBA program and an MBA program for Executives.
Often, when you fall into the "Executive" category, it may have been a while since you've experienced a collegiate environment or thought about an application process. Especially with a full workload, it can be difficult to begin your research into deciding which programs to apply to. Congratulations on starting that process by coming here! This page is designed to give you everything you need to know in order to decide whether or not Berkeley Haas's EMBA is right for you.
Berkeley Haas EMBA Class Profile
Class Size (students)
76
Age
Median: 38
Middle (80% Range): 33-48
Work Experience (years)
Median: 14
Middle (80% Range): 9-21
Companies Represented
74
Diversity
Women: 41%
Underrepresented Minorities: 8%
International: 59%
Residence
San Francisco Bay Area: 54%
Outside of Bay Area: 46%
Academic Background
Bachelor's Only: 42%
Master's: 42%
PhD: 11%
MD: 4%
JD: 1%
Industries
High Technology/Electronics: 12%
Health Services: 9%
Retail: 8%
Computer-Related Services: 7%
Nonprofit and Government: 7%
Energy/Utilities: 7%
Consulting: 5%
Biotechnology/Pharma: 5%
Media/Entertainment: 5%
Transportation: 5%
The data above is a profile of the Berkeley Haas EMBA class entering Fall 2022.
Explore the full class profile here: Berkeley Haas EMBA Class Profile
Berkeley Haas EMBA Student Experiences
The Berkeley Haas Executive MBA
If you're looking into EMBA programs, you may also be wondering how the coursework is structured, and how you can realistically balance working full-time with completing coursework and other program requirements. This is one of the most frequently asked questions among potential EMBA applicants—you are not alone! To help alleviate those concerns, we've outlined the structure and other logistics of Haas's MBA for Executives program below.
Berkeley Haas EMBA Class Format
The Berkeley Executive MBA program is a total of 19 months. It has a May intake date and runs to December of the following year. This is broken down in five separate terms which, in turn, are broken down into 3-day blocks (Thursday through Saturday) every three weeks.
This schedule has a slight variation when it comes to field-immersion class sessions which occasionally run mid-week. You can look at the program calendar for the class of 2024 here to get an idea of how often these immersions occur and generally what your 19-month EMBA will look like, schedule-wise.
Like other top EMBA programs, the Berkeley Haas classes enter as one and spend a lot of time together over the course of just over a year and a half. It is not as flexible as some programs, but offers solidarity and closer class connections as a trade-off.
Other Logistics
Berkeley Executive MBA Fees and Scholarships
The Berkeley Haas MBA for Executives program was expected to cost $196,000 for the class entering in August of 2021. This is more or less in line with the cost of other top-tier EMBA programs including Stern, Booth, and Kellogg. In order to help offset that price, the school offers a number of scholarships including the Dean's Scholarship and the Beyond Yourself Fellowship—an essay driven award, which is aimed at applicants with experience and results in the non-profit sector. Berkeley Haas also offers loans and accommodates benefits based on Veteran status or Employer Funding.
Berkeley Haas EMBA Curriculum
The Berkeley EMBA follows four pillars when it comes to their Haas EMBA curriculum: leadership, strategy, entrepreneurship, and finance. In the first three terms, Haas EMBA students must take ten core courses, such as "Data Analysis for Management" and "Competitive and Corporate Strategy" among others. In the final two terms, students take elective courses, either in the business school or another UC Berkeley college, or partake in independent study. Just like the full-time MBA, the executive academic program is peppered with opportunities for experiential learning.
Berkeley Haas EMBA Academics
Berkeley Haas EMBA Application
Applying to business school can be a daunting process for many of you who have spent the last few years in the workforce. Many of our clients aren't quite sure where to begin. Below, we outline the two main parts of the Berkeley Haas EMBA application to get you started: the essays and the interview process. As a side note, it is important to recall that the school has discrete applications for first-time domestic students, reapplicants, and international students. Below, we list the essay and interview requirements for the EMBA program.
Berkeley Haas EMBA Essays
As part of the application process to Haas's MBA for Executives program, you will have to complete two essays. These essays are intended for the admissions committee to get to know you better. We've listed last year's EMBA essay prompts for you below:
Your Personality

A person's identity is shaped by many different aspects, including family, culture, personal interests, and surrounding environments. Please share a facet of your identity or story that is essential to who you are. (text box, 300 words)

Unique Skills

As a working professional, you have developed unique skills, knowledge or experience in your career. Please summarize your primary area of professional expertise or knowledge. Highlight any aspect(s) that makes you unique or sets you apart from your peers. (text box, 150 words)

Career Goals

Briefly describe your career goals in the next 3-5 years. (text box, 150 words)

Gaps In Employment

Supplemental Information. Please provide an account of any gaps in your employment since earning your undergraduate degree. If you are not employed full time, please explain your current employment situation and your career search plans. Mark N/A if not applicable. (text box, 350 words)

Recommender

Supplemental Information. Please explain who you chose for your recommendations and why.

Please include when you worked with your recommender.
The context of your professional relationship.

(text box, 350 words)

Quantitative Abilities

Supplemental Information. Please briefly discuss ways in which you have demonstrated strong quantitative abilities or plan to strengthen your quantitative abilities. Mark N/A only if you have a degree in a quantitative field (e.g., engineering, math, statistics). (text box, 250 words)


Academic Discipline History?

Supplemental Information. If you have ever been subject to academic discipline, placed on probation, suspended, or required to withdraw from any college or university, please explain. (An affirmative response to this question does not disqualify you from admission.) Mark N/A if not applicable. (text box, 250 words)


Significant Extracurricular Activities

Supplemental Information. List, in order of importance, up to five significant community and professional organizations and extracurricular activities in which you have been involved during or after university studies. Include the following information for each using the format below:


Name of organization or activity
Nature of organization or activity
Size of organization
Dates of involvement
Offices held
Average number of hours spent per month

Mark N/A if not applicable.


(text box, 500 words)

Reapplicant Essay

REAPPLICANTS ONLY: Please submit a statement describing career progress since you last applied and other ways in which you have enhanced your candidacy. If you have previously applied to one of our other Berkeley MBA programs, please help us understand why you are now interested in attending the Berkeley MBA for Executives program. (text box, 350 words)
Berkeley Haas EMBA Interview
Every MBA applicant must successfully go through an interview in order to be granted admission into the program. Interviews to the Executive MBA program at Haas are about 30 minutes long and mostly held on campus, though accommodations can be made for out-of-town applicants.
Unlike other programs, Berkeley Haas interviews are not by invitation only, and the school encourages applicants to schedule their interviews at their convenience, including before the application is submitted. This is a great opportunity to connect with the school and determine your fit with the program.
Why Berkeley Haas?
An important factor when considering EMBA programs is the location of the business school, and Berkeley Haas has unparalleled access to the tech sector of the San Francisco Bay Area and Silicon Valley.
Additionally, as you would expect from its integration within the University of California, Berkeley, Haas is a progressive school with progressive values. Admissions essays have invited applicants to discuss the hardships faced in their lives, and Haas is more willing than its peer schools to consider unusual applicants who may lack a few traditional qualifications but show sound reasoning for pursuing an MBA and have an inspiring story of what they've done in their lives.
The Berkeley location of the Haas School of Business makes it easy to network with tech companies across the San Francisco Bay Area, and the school has excellent placement in the tech industry; it has placed more than 30% of its students into the tech industry in recent years.
Lastly, a reason to choose Haas for an EMBA would be their four defining principles, which are: question the status quo, confidence without attitude, students always, and beyond yourself. If these principles resonate with you, if you want a school that makes exceptional efforts to recruit a diverse class of students, or if you want to excel in the SF Bay Area tech industry, Haas should be on your list.
Berkeley Haas EMBA Useful Links
*All data retrieved from the Berkeley Haas EMBA Program webpages, unless otherwise stated.