Everything You Need to Know about the Georgetown McDonough EMBA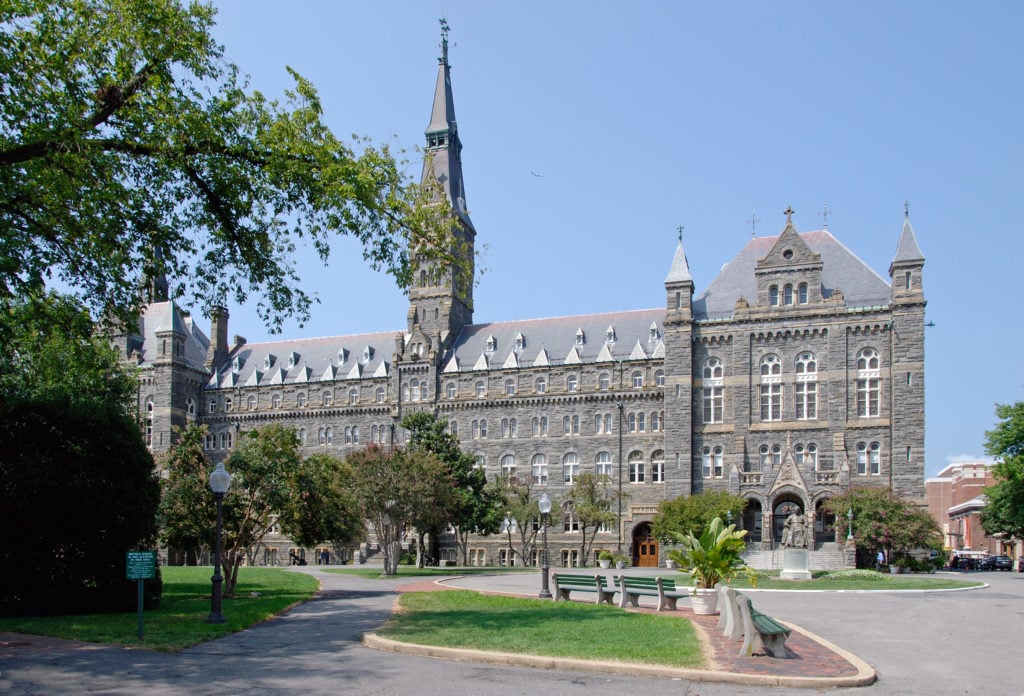 Georgetown University's McDonough School of Business gives students a unique opportunity to access institutions in Washington D.C.. This plays into Georgetown's focus on international engagement, encouraging students to take advantage of their location as a hub of international politics. Georgetown McDonough's Executive MBA program is well-ranked among U.S. EMBA programs, attracting mid- to senior-level managers from many different industries, including Aerospace, Communications, Law, Manufacturing, and Transportation.
Georgetown McDonough's EMBA program offers unique, flexible degrees that allow students to continue working full-time while earning their degrees. The Georgetown Executive MBA program prioritizes diversity, collaboration, ethical leadership, and global engagement. Further, Georgetown's team approach appeals to working professionals who want to build their network and learn how to have a more positive impact on society as leaders. 
Georgetown McDonough EMBA Class Profile
Class Size
55
Age/Experience
Average Age: 37 years
Average Work Experience: 14 years
Diversity
Female: 44%
U.S. underrepresented minorities: 40%
Explore the full class profile here: Georgetown McDonough Executive MBA Program Class of 2024 Profile
Georgetown McDonough EMBA Student Experiences
The Georgetown McDonough Executive MBA
The Georgetown McDonough EMBA program is based in the capital of the United States of America: Washington D.C. This program does not offer any concentrations or majors, but students can tailor their learning experience with electives, a global capstone residency, and research.
Georgetown McDonough EMBA Class Format
Classes are held on Fridays and Saturdays of alternating weekends in addition to four week-long residencies: two domestic and two international. During these in-person residencies, students complete real-world business projects. Students are expected to work between 12 and 15 hours per week outside class. The program lasts 20 months, beginning in August.
Logistics for a Non-Traditional MBA Program
Although this program uses in-person learning, it allows for a flexible work-life balance. Since students are required to stay employed full-time throughout the duration of the program, class meetings only take place twice per month on the weekends, accommodating the typical weekday work schedule and encouraging students to remain focused on their careers.
Georgetown McDonough EMBA Curriculum
The Georgetown McDonough curriculum focuses on global management and markets, molding students into leaders who comprehend business challenges at the intersection of commerce, government, and policy. Georgetown McDonough's EMBA classes are taught in small groups, encouraging bonding among peers. The Georgetown faculty use different approaches to teaching leadership such as case studies, lectures, and experiential learning.
The first year of the McDonough EMBA has students focusing on the fundamentals of business. Courses in this year include Decision Analytics, Managerial Accounting, and Global Operations. Alternately, the second year is more tailored, with students taking three advanced business courses about the relationships between geopolitics and business in addition to seven electives. Electives include courses such as Investment, Consumer Behavior, and Emotional Intelligence.
Video Resources on Georgetown McDonough Academics
Georgetown McDonough EMBA Application
Georgetown uses rolling admissions, with ten rounds of deadlines between September and June. The Georgetown McDonough application requires students to submit the online application form, one essay, one letter of recommendation, their resume or CV, and their academic records. Applicants also have the option to submit a video essay, a scholarship essay, and/or a diversity essay. All applicants are required to have eight years of professional experience, but the average amount of work experience is 14 years.
Georgetown McDonough EMBA Essays
Georgetown McDonough only has one required essay for their application, allowing students to choose between two options. The applicant's personal statement should be introspective and personal to their own experiences and accomplishments, illustrating their value to the admissions committee and what they can bring to the Georgetown community. The essay should not exceed 700 words.
Georgetown McDonough EMBA Essays
Personal Statement Option 1: Tell us about an unpopular decision you've made at work. How was it received? How did you react?
Personal Statement Option 2: Tell us something that is not on your resume.
Video Essay (Optional): Please introduce yourself to your future cohort members. In a one-minute video, describe the most unique and compelling aspects of yourself that you'd like to share with your future classmates. (Hint: one minute goes fast! We already have your resume and goals – share something new!) Use this video as an opportunity to bring life to your application.
For more guidance, take a look at our MBA Essay Tips, where we look at the most common MBA essays and discuss how to answer them effectively.
Georgetown McDonough EMBA Interview
The interview for Georgetown McDonough's EMBA program has two parts: a short case discussion and a conversation to determine how the prospective student might fit in the Georgetown community. Applicants are also encouraged to ask questions during the interview and be as authentic as possible.
Video Resources on Georgetown McDonough EMBA Admissions
Why Georgetown McDonough?
Motivated business professionals who prioritize international engagement and enjoy team-based learning will thrive in Georgetown McDonough's EMBA program. Georgetown McDonough has been highly regarded in terms of career progress, and students' careers tend to flourishes after completion of their EMBA program, a valuable incentive for driven leaders who hope to further their career in the business world with an Executive MBA.
Georgetown McDonough EMBA Useful Links
*All data retrieved from the Georgetown McDonough EMBA Program webpages, unless otherwise stated.