What is an MBA? – Everything You Need to Know for 2022-2023
If you came to this article wondering "What is an MBA?", you're in the right place. The MBA is a graduate degree program in management valued by professionals who wish to grow their leadership skills and business knowledge. Many business executives hold an MBA degree, but this does not guarantee that all MBA graduates will have success in the business world. Despite the impressive record for prominent MBA alumni, including George W. Bush and Michael Bloomberg, the MBA is not for everyone. However, there are some major benefits to getting an MBA, including enhancing your career prospects and accelerating your career growth.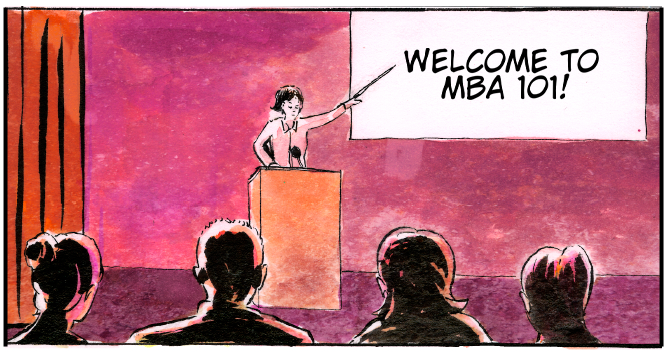 What Does MBA Stand For?
The term, "MBA", meaning Master of Business Administration, was coined by Harvard Business School in 1908. Now, many international business schools have adopted the MBA.
During your MBA education, you will learn from a core MBA curriculum in addition to choosing between many elective courses to attain an MBA specialization. The core courses teach MBA students about numerous business areas, including finance, accounting, and marketing. Examples of MBA specializations include human resource management, entrepreneurship, and business analytics.
In addition to business education, an MBA can afford students professional experience and networking opportunities. MBA grads tend to earn higher salaries than peers who do not have the same level of management education, leadership ability, or business knowledge.
Why Get an MBA?
Not all MBA applicants are the same. Even though many MBA students go into typical "MBA jobs" such as finance or consulting after attaining their Master of Business Administration, MBA admissions do not look for any specific professional backgrounds. Thus, your previous business experience should not dictate whether or not you should apply to an MBA program.
There are several main advantages for getting an MBA, including the opportunity to manage more people, obtain senior level positions and higher salaries, and change career paths. At the moment, with increased layoffs in the tech industry, we are seeing a significant uptake in MBA applications among people previously in the technology industry.
Popular Business Schools
Top business schools include Harvard Business School, Stanford Graduate School of Business, Wharton School at the University of Pennsylvania, and Columbia Business School. These are some of the best business schools in the world, attracting many international students and producing successful business school alumni. MBA degrees from any of these schools will increase your chances of standing out to hiring managers.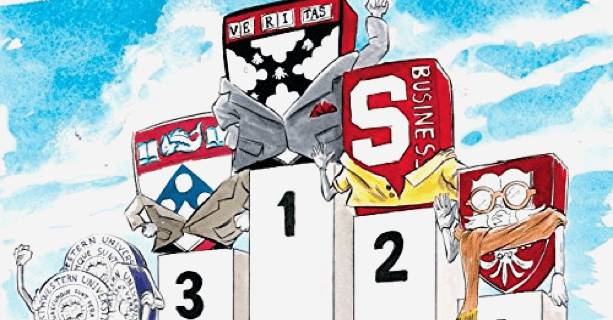 MBA Requirements
Before applying for a Master of Business Administration, an undergraduate degree is required. Next, in an MBA application, prospective MBA students are usually required to include academic transcripts, test scores, an updated resume, letters of recommendation, and personal essays. In terms of test scores, the school may accept the GMAT (Graduate Management Admission Test) or GRE (Graduate Record Examination). Note that you will need to provide official scores to your selected business schools through the Graduate Management Admission Council.
Further, MBA candidates may be asked to interview with a business school before being accepted into their MBA program.
Additionally, most MBA programs will require several years of business experience before applying in addition to a projected career path for after graduation.
Types of MBA Programs
There are several types of MBA program, and these vary in duration, format, and target student body. These include:
Full time MBA programs
Part time MBA programs
Executive MBA programs
Online MBA programs
Full-Time MBA
A full-time MBA program lasts one to two years and requires students to live on or near the host college campus. Full time MBA programs work well for students who are still near the beginning of their careers.
Part-Time MBA
The part-time MBA program can work well for working professionals, as they can continue working while taking MBA courses. A part time MBA program typically takes two or more years to complete.
Executive MBA
Executive MBA programs, sometimes known as EMBAs, target executive business people with at least ten years of professional experience. An EMBA program attracts senior managers who want to develop their own business education, share information, and gain professional networking opportunities.
Online MBA
Online MBA programs are both flexible and part time, often taking around two years to complete. Online programs are good for students who want to take MBA classes at home while still continuing to work.
Conclusion
If you are still asking yourself, "Is an MBA worth it?", consider your current situation within the business world in addition to what you want to gain from an MBA degree. Do you want to start your own business? How can a graduate degree further your career success? Does your dream company only hire MBA graduates?
For more information on the basics of the MBA, you can find our mine of resources here!
Your answers to questions like these will help you determine whether attending a graduate business school is right for you.
If you're thinking about pursuing an MBA degree, but you're not sure where to start, check out our Free Email Course on MBA Admissions! We offer a direct-to-inbox curriculum, designed by the best MBA consultants in the industry, breaking down some overwhelming information into modules that demystify the MBA application process.