What You Need to Know as a Military MBA Applicant
Have you served in the military? Do you want to boost your chances of a successful career in business? Then, an MBA program might just be the right choice for you!
This article will discuss the benefits of an MBA program for veteran students, how to navigate the application process, and the best MBA programs to attend.
Discounted GMAT Prep for Military Applicants
Save 50% on Menlo Coaching's GMAT Prep Course and 20% on private tutoring.
Fill out the form below to claim your discount.
The Benefits of Attending an MBA Program as a Military Veteran
It may be surprising to hear, but veteran students have a distinct advantage when applying to most business schools!
MBA programs love former service members because of the intense leadership required in the military. In the case of veterans, supervising and management are typical roles that are easily transferable to post-MBA jobs and the civilian world of business.
Unlike most people in business administration, veterans have dealt with life-or-death decisions, high-pressure problem solving, and leadership scenarios where they have had responsibility over huge numbers of people.
We've seen military applicants supervise as many as 900 soldiers, which shows a higher amount of responsibility and leadership than most other students applying to MBA programs, for more information, visit our MBA applications and admissions guide. People in corporate finance, for example, are not likely to have supervised this amount of people, giving veteran applicants an advantage over civilian MBA applicants.
Employers know that veterans make excellent leaders and team members, and they are likely to hire former service members upon graduation. MBA programs want to see a high employment rate for students, meaning they are likely to admit veteran candidates for having greater job prospects.
In the next section, we will share some tips and advice for veterans interested in applying to MBA programs to enhance their civilian career post-military.
#1: Don't Be Afraid to Share your Leadership Roles
As we previously stated, active-duty military personnel have shouldered immense responsibility and leadership roles that are very desirable for business schools.
In your MBA application, don't be shy about telling your leadership stories. We have heard stories about intense leadership and complex decision-making from former veterans, and they have always made for great stories; MBA programs will want to see your leadership response in times of stress.
#2: Network with Student Veteran Clubs
Many MBA programs have veteran clubs that are very willing to help military MBA students. In addition, members frequently share advice on the MBA application process, details about different programs and courses, and military-friendly employers.
These details can significantly improve your personal essay and MBA application in general, so if you're a military MBA candidate, it's worth your while to reach out to members of these veteran clubs.
Another reason to network with student veteran clubs is their expertise in nuanced military positions. Most admissions committees are not military experts and usually cannot distinguish between levels of prestige in military experience and careers. While the Special Forces is obviously recognizable, most positions are not.
As a result, admissions committees will frequently request the help of student veterans to interpret military MBA resumes. By interacting with veteran clubs, they will most likely help you out in the admissions process by giving feedback on your resume.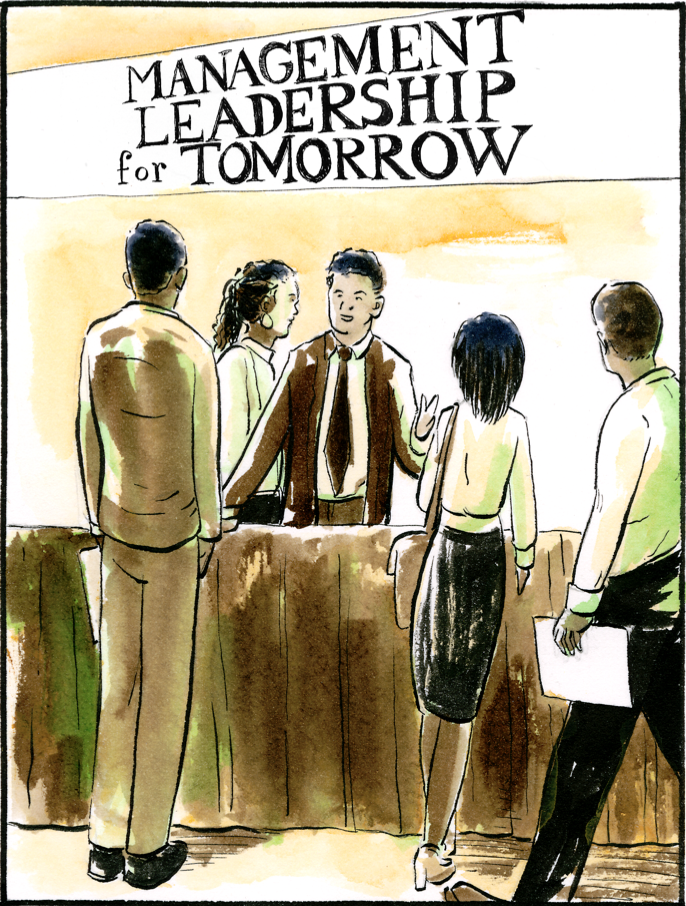 #3: The Yellow Ribbon Program
Many veterans chose to put aside money from the GI bill in exchange for the government's help in paying for future tuition costs. This can be particularly helpful for people in the military hoping to apply to MBA programs.
Military-friendly universities usually have a Yellow Ribbon Program, where the school essentially increases the GI bill contribution. The Yellow Ribbon Program then functions as an additional scholarship, which is easily attainable for most veteran students. This is most helpful for out-of-state, private schools with higher tuition. In-state tuition is more affordable than out-of-state, which is worth considering when applying to MBA programs.
Hear from a Successful Military Applicant
West Point graduate and Infantry Captain Nick wanted to transition into tech, with a keen interest in exploring civilian blockchain applications.
An MBA would round off his impressive leadership skills while providing a robust general management foundation to support his goals. But which MBA program would be the right fit?
The Best MBA Programs for Veterans
Military veterans should look for universities with a clear commitment to supporting military students. For example, Duke's Fuqua, University of Chicago's Booth, and Tuck School of Business all financially assist or hold events for veterans. MBA programs at Arizona State University, Pennsylvania State University, Indiana University Bloomington, Wisconsin MBA Consortium, and George Washington University also have established military services to transition veterans to the world of business.
If you're less interested in in-person classes, but you want to transition into business through higher education, maybe online MBA programs will be more up your street. The best online MBA programs tend to be equally accommodating for active-duty military personnel.
The Ultimate
MBA Admissions Checklist
Our free, comprehensive checklist covers everything you need to shop for an MBA admissions consultant.
Our free, comprehensive checklist covers everything you need to shop for an MBA admissions consultant.
✓ Compare pricing across 35+ MBA admissions consulting firms
✓ Learn why "success rates" are not to be trusted
✓ Find the right service model for your needs
✓ Prep for your consultation calls
✓ Compare pricing across 35+ MBA admissions consulting firms
✓ Learn why "success rates"
are not to be trusted
✓ Find the right service model
for your needs
✓ Prep for your consultation calls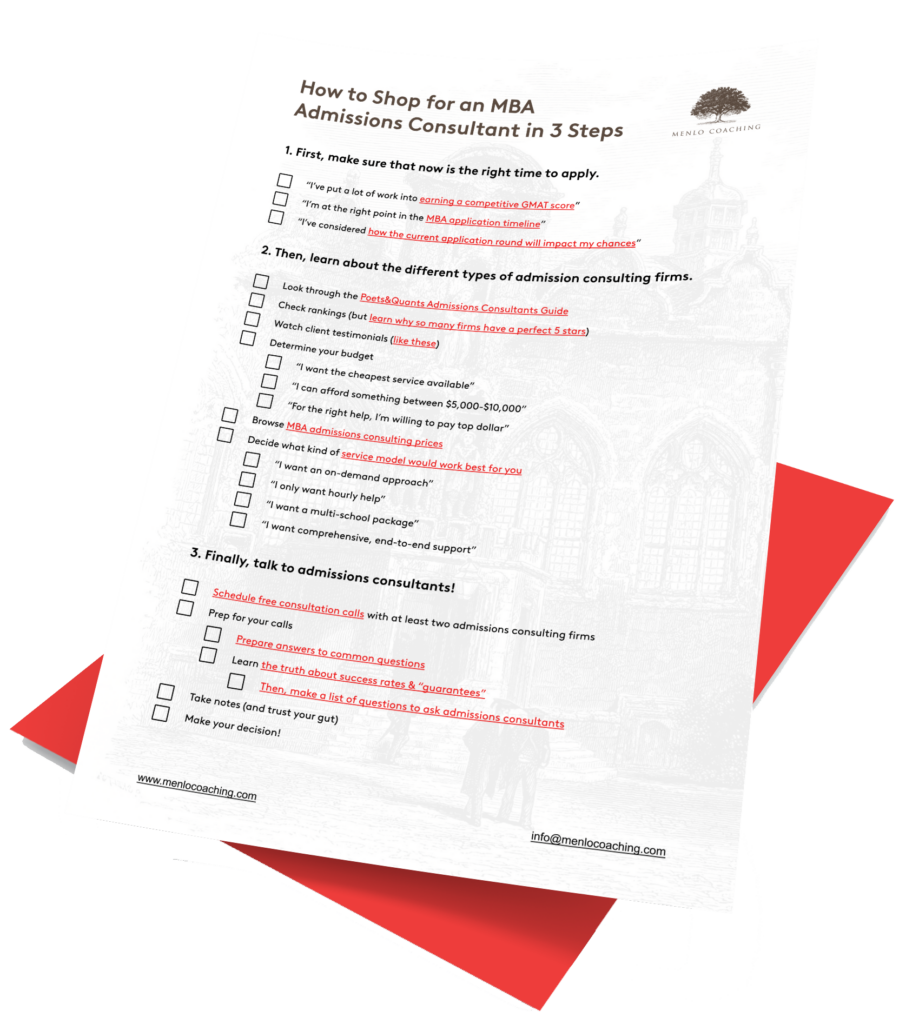 Next Steps for Military MBA Applicants
There are numerous benefits to attending an MBA program as a veteran, from ingrained leadership to financial aid through the Yellow Ribbon Program. By emphasizing your military experience and taking advantage of veteran clubs on campus, you can strengthen your chances of admission to top MBA programs.
To further enhance your MBA application, make sure to read Menlo Coaching's resources on essay writing, networking, and interview skills (or our resources on the top online MBA programs)!
You can also feel free to enquire with us about our Military Discount for our GMAT services!