MBA Admissions Consulting Reviews: Are They Real?
Buying MBA admissions consulting services should be just as easy as shopping on Amazon. Check a few admissions consulting reviews and you'll be able to pick a winner, right? The first dilemma you encountered when you started reading MBA admissions consulting reviews was probably the fact that nearly every review was a perfect five stars.
How can so many reviews all be five stars? Are these real?

Years ago we asked ourselves the same questions. There are some no-name sites where you should assume the worst, but reputable sites like GMAT Club or Poets&Quants check that each review comes from a specific person, which is verified through GMAT score reports, school-issued email addresses, work email addresses or LinkedIn profiles.

But the question of whether the person behind each review exists is only scratching the surface.

Watch our video if you want the full details of why nearly all MBA admissions consulting reviews are 5-stars.

Why Aren't There More Negative Reviews of MBA Admissions Consultants?
There are many plausible answers:

Unsuccessful clients aren't asked to leave reviews.
Leaving a bad review means admitting that it was a mistake to choose that consultant. Psychologically, most people hate to admit making a big, important mistake.
Most applicants hire only a single consultant and have no basis for comparison.
It's only human nature to be afraid of writing a negative review about someone who knows EVERYTHING about you — every job, how much money you made, everything you wrote in your personal essay, and even intimate questions on the application form about your ethnic identity and sexual orientation.
When every review is a 5-star review, it's clear that even a 4-star review is a big negative statement that might hurt the consultant. Who among us hasn't given an Uber driver a 5-star review that they didn't quite earn?
What Else Should You Watch Out For When Reading Admissions Consulting Reviews?
Great question. Where should we start?

Ancient reviews. How old do they get? Below is one that was 17 years old when it was posted. Imagine if you read a review like this on Yelp… "I really enjoyed eating at the MBA Steakhouse 17 years ago! Amazing food!"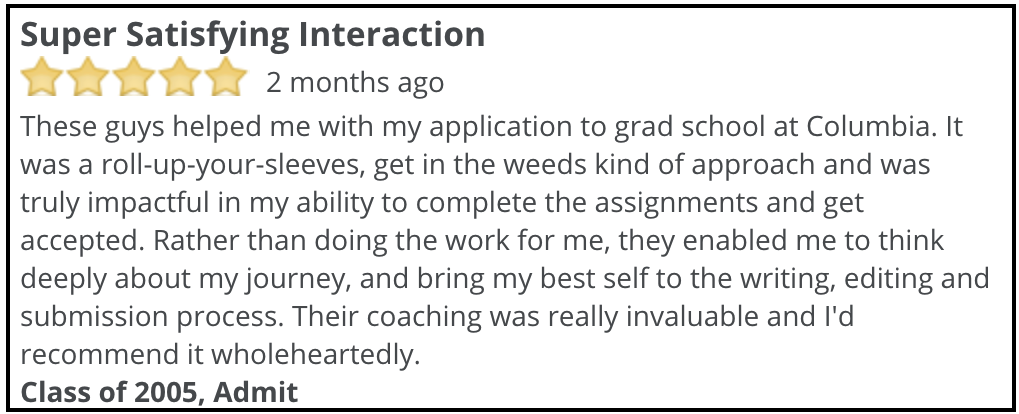 The ancient review is closely related to another type of review: the really short review.


Other reviews are written by applicants who never even paid for services from the consultant being reviewed, and never submitted any applications. Surely you hope to achieve a better result than Class of N/A, N/A.


There are also reviews that couldn't possibly be true. For example, did you know that Harvard Business School financial aid is awarded based solely on financial need? No HBS offer comes with a scholarship award attached. Thus, you know you are being misled when you see reviews that suggest otherwise.


There are, of course, an even greater number of… curious… reviews that could be summarized as "I had low stats, am part of an over-represented group, and I received massive scholarships from many top programs." You might need to use your critical reasoning skills to decide whether to believe those reviews. If you are applying to business school, you are probably well-equipped to think through the financial incentives and figure out whether these reviews are believable.

Most insidious of all are the ones that are tougher to spot:

Cases where the CEO/founder of an admissions consulting firm silently takes credit for the work of a team. Look for companies with a big team of consultants where only the CEO is listed in the review directory.
Cases where the applicant works with a junior consultant but then reviews the senior consultant for the express purpose of inflating the senior consultant's number of reviews ("______ did the final review of my package. It was a really insightful 20 minute call.")
Reviews that were written by the firm. Do the headlines look like finely tuned ad copy? They probably are. Real MBA applicants are incredibly busy people, and for that reason, our clients review titles are usually just… a copy or near-copy of a previous review title the applicant saw just before posting.
Reviews of ancillary services (short hourly engagements, online courses, etc.)
Not only does this mean that you have to read reviews carefully, it means that large numbers of positive reviews don't mean much, unless you've read every single underlying review. The questionable reviews may be buried on Page 8.
The Ultimate
MBA Admissions Checklist
Our free, comprehensive checklist covers everything you need to shop for an MBA admissions consultant.
Our free, comprehensive checklist covers everything you need to shop for an MBA admissions consultant.
✓ Compare pricing across 35+ MBA admissions consulting firms
✓ Learn why "success rates" are not to be trusted
✓ Find the right service model for your needs
✓ Prep for your consultation calls
✓ Compare pricing across 35+ MBA admissions consulting firms
✓ Learn why "success rates"
are not to be trusted
✓ Find the right service model
for your needs
✓ Prep for your consultation calls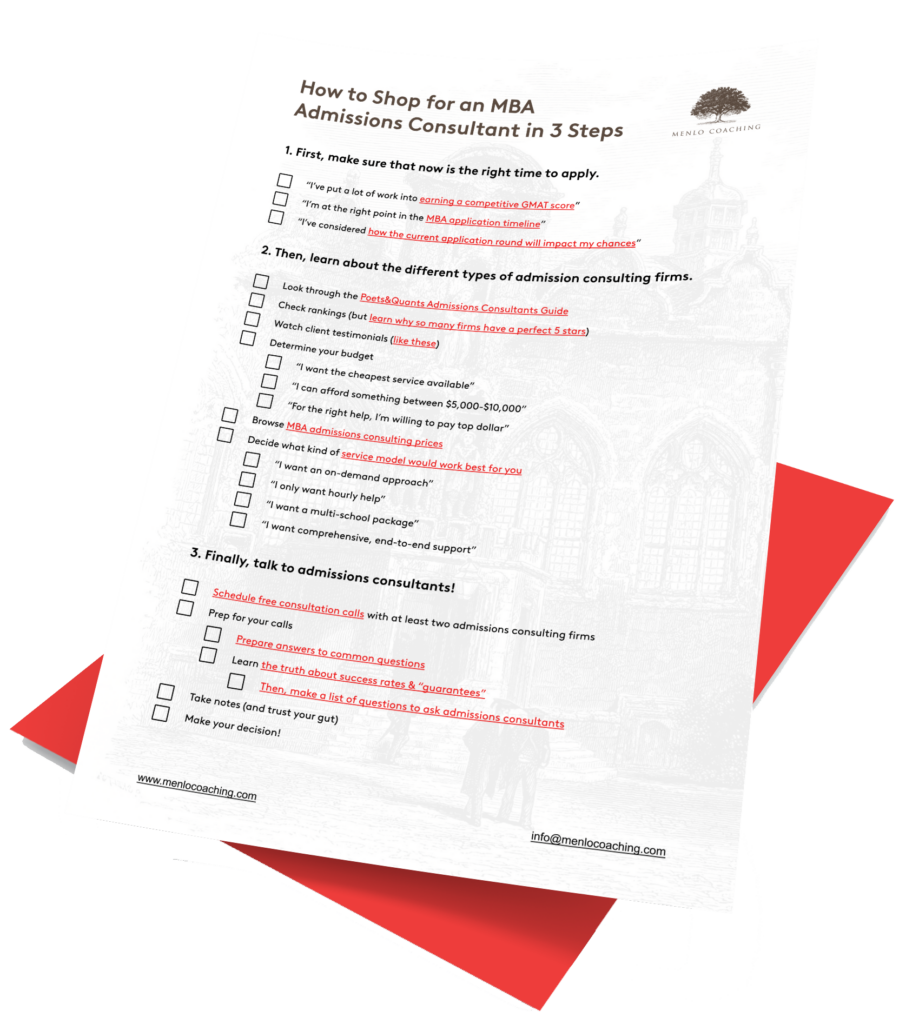 So How Can You Find a Great MBA Admissions Consultant?
Reviews can give you a sense of how a consultant works with clients and which schools they target.
They're also a marketing channel for admissions consultants, and for this reason we do ask our clients to leave us reviews (P&Q, GMAT Club). We don't write or submit the reviews ourselves and we don't ask or encourage non-clients to write reviews, but we want to be findable when applicants like you do your research to find quality MBA admissions coaching.
Some clients also write about us in message boards, like the GMAT Club's "Best MBA Admissions Consultants" thread (and earlier editions of the same: 2018 Best MBA Admissions Consultants, 2017 Best MBA Admissions Consultants).
But the real lesson is that you can't rely on reviews. To find a great admissions consultant, you'll have to learn how MBA admissions consulting firms differ from each other, and find which firm best fits your needs and personality. It's a bit more work, but the potential rewards–winning admission to a top MBA program–are well worth the effort.
If you want to hear some "reviews" from real clients, on video under their real names–not anonymous forum users–visit the Menlo Coaching Reviews & Testimonials page.
Read more on MBA admissions consulting