Berkeley Haas Part-Time MBA Program Guide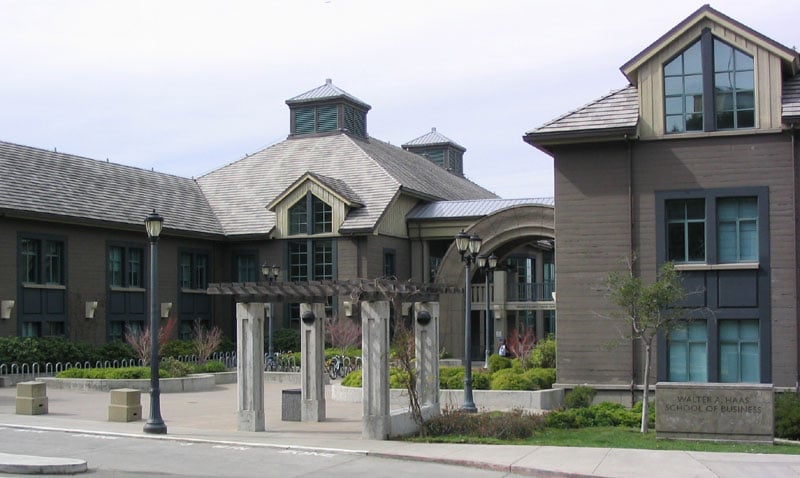 When discussing top MBA programs, UC Berkeley's Haas School of Business is often on the list. Berkeley Haas offers both a full-time MBA program and a part-time MBA program for those who cannot leave their work full time to pursue their degree.
The Haas part-time MBA, most often referred to as the Haas Evening and Weekend Program (or the Haas EWMBA, for short), is designed for those who will continue working while obtaining their degree, and subsequently need a class schedule that takes the industry workweek into consideration. This resource page lays out the basics on the Haas School of Business part-time MBA program, and covers all you need to know about whether the program is right for you.
Berkeley Haas Part-Time MBA Class Profile
Class Size (students)
336
Age
Median: 31
Middle 80% Range: 27-38
Work Experience (years)
Median: 8
Middle 80% Range: 5-13
Companies Represented
239
Diversity
Women: 38%
International: 59%
Underrepresented Minorities: 8%
Residence
San Francisco: 64%
Outside of Bay Area: 36%
GPA
Median: 3.40
Middle 80% Range: 2.90-3.83
GMAT
Median: 700
Middle 80% Range: 640-740
Highest Degree Obtained
Bachelor's: 57%
Master's: 36%
PhD: 6%
PharmD, JD and MD: 1%
Top Industries
High Technology/ Electronics: 22%
Computer-Related Services: 12%
Banking and Financial Services: 9%
Biotechnology/Pharma: 6%
Consulting: 6%
Consumer Products: 5%
Nonprofit and Government: 5%
Energy/Utilities: 5%
Retail: 4%
Transportation: 4%
The data above is a profile of the Wharton Evening and Weekend MBA entering class fall 2022.
Explore the full class profile here: Berkeley Haas Part-Time MBA Program Class Profile
Berkeley Haas Part-Time Student Experiences
Berkeley Haas Part-Time MBA
If you're looking into part-time programs, you may also be wondering how the coursework is structured, and how you can realistically balance working full-time with completing MBA coursework and other program requirements. We hear this question over and over again from clients who are applying to part-time or executive programs, so no, you're not alone!
Below, we break down the format and other logistics of Haas' part-time MBA program so you can get a sense of what to expect.
Berkeley Haas Part-Time MBA Class Format
Berkeley Haas has two distinct tracks for its Evening and Weekend MBA program. Perhaps it would be better referred to as the evening or weekend MBA program because those are its two options.
Looking at Haas's EWMBA scheduling page, you have the option of taking evening classes on either Monday and Wednesdays or on Tuesday and Thursday. Both options hold classes from 6:00pm–9:45pm with a 45 minute break. Your eventual elective courses will be offered in the evenings Monday–Thursday.
The weekend version of the Berkeley Haas EWMBA holds core classes from 9:00am–6:00pm, with two 15 minute breaks and a scheduled lunch hour on Saturdays for the first three semesters. For the last three semesters of the program, the EWMBA holds elective courses from 10am–5pm with a similar schedule for breaks.
Other Logistics
In any big Metro Area, transportation is always something to think about. Berkeley Haas provides weeknight shuttle services from locations throughout the South Bay and Peninsula for ease of access. While there is no weekend shuttle service, UC Berkeley is located about a block from the Downtown Berkeley BART (Bay Area Rapid Transit) Station. For out of town MBA students, the fact that BART runs to San Francisco International Airport makes the commute much easier.
That said, with weeknight classes starting at 6, and Bay Area evening traffic being infamously slow, there may be a number of work accommodations you should consider before applying. Can you take half days on the two days each week that you need to be in Berkeley by 6:00 sharp?
Berkeley Haas Part-Time MBA Curriculum
The UC Berkeley Evening and Weekend MBA curriculum consists of 13 required courses spread out over your first three semesters (Fall of year 1 through Fall of year 2). After that, you'll switch to electives. These will help you personalize the curriculum to your individual field and career goals. In Berkeley's part-time MBA program, you will even be allowed to bid on classes that are open to full-time students.
Part-time business school students also have the option of participating in Haas' experiential learning program. This includes the opportunity to participate in We Innovate, a mid-program retreat where MBA students head to a scenic location to tackle a real world challenge as a team. These courses allow you to engage in team-based practicums that focus on applying classroom knowledge to real-world situations.
Berkeley Haas Part-Time MBA Application
Make sure to consult the application requirements for Haas's Evening & Weekend MBA, taking note of deadlines. Below, we discuss the latest essays that are required as part of the application, as well as the Haas part-time MBA program interview process.
Berkeley Haas Part-Time MBA Essays
As part of the application process to Haas's part-time program, you will have to complete two essays. These essays are intended for the Haas admissions committee to get to know you better. Here are the prompts for the 2021-2022 application:
Career Goals Briefly describe your career goals in the next 3-5 years. (text box, 150 words maximum)
Your Personality A person's identity is shaped by many different aspects, including family, culture, personal interests, and surrounding environments. Please share a facet of your identity or story that is essential to who you are. (text box, 300 word limit)
Leadership The definition of successful leadership has evolved over the last decade and will continue to change. What do you need to develop to become a successful leader? (text box, 300 word limit)
Gaps In Employment Supplemental Information. Please provide an account of any gaps in your employment since earning your undergraduate degree. If you are not employed full time, please explain your current employment situation and your career search plans. (Mark N/A if not applicable.) (text box, 250 words)
Direct Supervisor Supplemental Information. Please list the name and title of your current direct supervisor. If you are not providing a letter of recommendation from this person, please explain. (Mark N/A if not applicable.) (text box, 250 words)
Quantitative Abilities Supplemental Information. Please briefly discuss ways in which you have demonstrated strong quantitative abilities or plan to strengthen your quantitative abilities. (Mark N/A only if you have a degree in a quantitative field (e.g., engineering, math, statistics).) (text box, 250 words)
Academic Discipline History? Supplemental Information. If you have ever been subject to academic discipline, placed on probation, suspended, or required to withdraw from any college or university, please explain. (An affirmative response to this question does not disqualify you from admission.) (Mark N/A if not applicable.) (text box, 250 words)
Significant Extracurricular Activities Supplemental Information. List, in order of importance, up to five significant community and professional organizations and extracurricular activities in which you have been involved during or after university studies. Include the following information for each using the format below: a. Name of organization or activity b. Nature of organization or activity c. Size of organization d. Dates of involvement e. Offices held f. Average number of hours spent per month (Mark N/A if not applicable.) (text box, 500 words)
Your Personality A person's identity is shaped by many different aspects, including family, culture, personal interests, and surrounding environments. Please share a facet of your identity or story that is essential to who you are. (text box, 300 word limit)
Reapplicant Essay REAPPLICANTS ONLY: Please submit a statement describing career progress since you last applied and other ways in which you have enhanced your candidacy. If you have previously applied to one of our other Berkeley MBA programs, please help us understand why you are now interested in attending the Evening & Weekend Berkeley MBA program. (text box, 350 word limit)
Berkeley Haas Part-Time MBA Interview
Berkeley Haas's EWMBA program recently started using a pair of video essays instead of a traditional interview. While they do not give out the questions ahead of time, they do say that one question will be focused on your interest in attending Berkeley Haas and that they other focuses on "leadership." For each question you will have 1-2 minutes to respond in full. The link to the video interview is sent 1-2 days after submitting the rest of your application.
Case Study: Helping a Haas EWMBA Applicant Win Admission
To hear more about Justin's MBA application journey, check out his full testimonial.
Why Berkeley Haas?
One important factor in asking the question "Why get a UC Berkeley part-time MBA?" is to remember that you will be part of the UC Berkeley educational system generally. Berkeley is the #2 ranked public university by US News and World Report in the nation. Being admitted into its EWMBA program means that you will have access to its top notch libraries, research facilities, and alumni associations. It also means you will share a campus with excellent faculty across a variety of disciplines.
Additionally, the Berkeley Evening & Weekend MBA provides students with a number of what it calls Global Learning Opportunities which includes international business development seminars, a network of partners for online learning about how business is done in a variety of nations, and an opportunity for an international exchange program with partner schools in Spain, France, Hong Kong, and the Netherlands.
With its two-part video interview, Berkeley Haas has also made it easier and more affordable for non-Bay Area residents to apply to the school. However, we're the first ones to point out that a big advantage of Haas is its Bay Area location with plenty of access to the tech sector in nearby San Francisco and Silicon Valley. If you aren't based there already, once you get to the Bay Area, you will be able to take advantage of all it has to offer!
Berkeley Haas Part-Time MBA Useful Links
*All data retrieved from the Berkeley Haas Part-Time MBA Program webpages, unless otherwise stated.