Everything You Need to Know about the Yale Executive MBA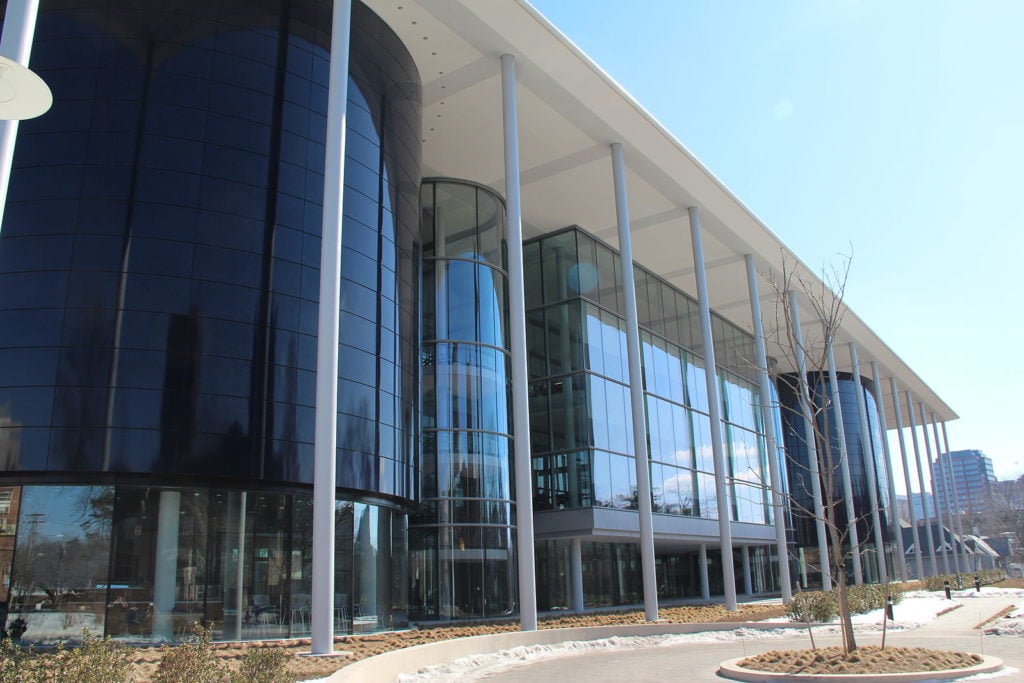 In addition to a traditional full-time MBA program, Yale School of Management offers a unique Executive MBA program, integrating a rigorous core curriculum, leadership development program, and advanced courses in one of three areas of focus: Asset Management, Healthcare, or Sustainability. The Yale Executive MBA program begins with a two-week long residential session in July, followed by class meetings every other weekend, allowing students to continue working full-time while earning their degrees. Students of the Yale EMBA program take the same curriculum and earn the same degree as students of Yale's full-time MBA program.
Yale stands out for its unique teaching methods, including the "raw" case study approach, developed by the Yale SOM Case Research and Development Team (CRDT). In this learning experience, students synthesize information online and decide what is most relevant and which topics they would like to delve into more deeply. This method reflects how management dilemmas are faced in the real business world.
If you are searching for a close-knit learning community, Yale School of Management is an exceptional choice. Yale community members value and support one another, creating a strong network of leaders in many diverse industries in the business world. Yale EMBA students can expect to learn from their professors and peers, developing impressive leadership skills.
Yale SOM Executive MBA Class Profile
Class Size
Does not disclose
Age/Experience
Average Age: 40 years
Average Work Experience: 16 years
Diversity
Women: 50%
U.S. Students of Color: 59%
U.S. underrepresented students of color: 39%
Born Outside the U.S.: 35%
EA Score
Average: 151
Professional Background
For-profit: 63%
Non-profit: 26%
Government: 11%
Pre-MBA Median Salary and Bonus
Does not disclose
Advanced Degrees
56%
The data above is a profile of the Yale SOM Executive MBA class of 2024.
Explore the full class profile here: Yale SOM MBA for Executives Class of 2024 Profile
Yale SOM EMBA Student Experiences
The Yale SOM Executive MBA
Like other EMBA programs, Yale SOM's EMBA requires students to stay employed while working toward their master's degree. Offering a manageable course load, Yale encourages students to continue prioritizing their work life. Standing out from other EMBA programs, the Yale EMBA allows students to choose between three different areas of focus: Asset Management, Healthcare, and Sustainability. Students of each area of study have the same core general management curriculum on top of their area-specific courses.
Yale SOM EMBA Class Format
Yale's 22-month EMBA program holds classes every other weekend, with four short in-residence sessions. One of these week-long sessions takes place abroad during Yale's Global Network Week. Friday and Saturday classes are taught in-person on Yale's campus, giving students the opportunity to broaden their perspectives by learning alongside students from many diverse backgrounds. Outside of class, students are expected to work about 20 hours per week.
Other Logistics
Despite using in-person learning, the Yale EMBA program allows for a flexible and sustainable balance between work and school. Since students are required to stay employed full-time throughout the duration of the program, in-person class meetings are only held on Fridays and Saturdays of alternating weekends on Yale's campus in New Haven.
Yale SOM Executive MBA Cost
The total cost for Yale Executive MBA students entering in July of 2023 is $208,500. This includes tuition, required textbooks, study materials, a Microsoft Surface Pro and breakfast and lunch on all class days. This amount also covers accommodation during Orientation and summer residencies (two weeks at the beginning of the first year and one week at the beginning of the second year). This figure also covers lodging and programming for the EMBA Global Network Week.
Students are responsible for all costs associated with travel to and from Yale SOM, accommodation during class weekends and travel and associated expenses that occur during Global Network Week, such as additional hotel nights. The Yale Executive MBA program has negotiated rates with local hotels for Friday evenings during class weekends. The approximate cost is $2,000 per semester. Loans may be available to include travel and hotel nights.
Payments can be made in four installments (August 1 and December 1 of each year). For more information or help funding your Executive MBA, Yale SOM's EMBA Admissions staff, in partnership with the Yale SOM Office of Financial Aid are available to discuss your options. Employees of Yale University are entitled to a courtesy partial tuition scholarship.
For more information on the cost of Yale's Executive MBA program, you can consult their EMBA Cost Information page.
Yale SOM EMBA Curriculum
At Yale SOM, according to Kerwin K. Charles, "We believe the most impactful leaders always weigh both sides of the ampersand in our mission—business and society." This mission statement is reflected in Yale's EMBA curriculum, which includes core general management courses, advanced management courses, electives, and courses specific to the three areas of focus.
Yale's raw case-based curriculum uses interdisciplinary teaching, deepening students' understandings of how to better serve their organizations' stakeholders. Yale's core curriculum includes courses such as The Global Macroeconomy, Modeling Managerial Decisions, Power and Politics, and State and Society. Next, advanced management courses include Business Ethics, Competitive Strategy, and Managerial Controls. Yale's EMBA program can be customized with electives, such as Game Theory, Big Data and Customer Analytics, and Legal Context of Management.
Students deepen their expertise in their chosen area of focus.
Asset Management students consider how business might be affected by global trends and examine how people and organizations prepare for the future. Courses for this area of focus include Climate Finance, Entrepreneurial Finance, and The Future of Global Finance. Further, Asset Management students participate in the Colloquium on Asset Management in their first year at Yale, learning from different perspectives and building a strong network.
Healthcare students explore many diverse topics in healthcare, participate in the Colloquium on Healthcare, and complete a capstone course on current challenges in the healthcare industry. Courses include Healthcare Economics, Global Health, and Healthcare Operations.
Sustainability students consider challenges like climate change and income inequality, learning that success in business depends on sustainability. After participating in the Colloquium on Sustainability Leadership in year one, Sustainability students take courses like Climate Change: Law, Policy, and Opportunity, Management Sustainable Operations, and The Theory and Practice of Sustainable Investing.
Video resources on Yale SOM EMBA Academics
Yale SOM Executive MBA Application
Individuals with at least seven years of work experience and an undergraduate degree are encouraged to apply to the Yale Executive MBA program. However, most Yale EMBA students have closer to 16 years of work experience. Before deciding to apply to Yale, it is possible to submit your resume or LinkedIn profile as pre-assessment for the EMBA program. A member of Yale's admissions team will reply with their professional opinion on your potential fit within the program.
Yale SOM has three rounds of deadlines for their EMBA application in November, January, and March. The Yale Executive MBA application requires applicants to submit their resume, at least three essays, their academic record, Executive Assessment (EA), GMAT, or GRE scores, two professional recommendations, their employer's approval, and an application fee. Further, students are asked to choose one of the three areas of focus in their application process, explaining this choice in one of the required essays. Selecting the right area of focus for you depends on your previous work experience and future career goals.
Yale SOM Executive MBA Essays
The Yale EMBA application includes two required general essays, one required area of study-specific essay, and one optional essay.
Why EMBA? Why Yale SOM?
What is your motivation for applying for an Executive MBA at this point in your career? Please discuss your interest in the Yale SOM MBA for Executives program, your area of focus, and your professional and personal goals. (500 words maximum)
Behavioral Essay
Cite a statistic that you find shocking. As a leader for business and society, what actions could you take to address this challenge, and what would be your guiding principles and values? (500 words maximum)
Area of Focus
Why have you selected this area of focus? Please describe how your current professional role relates to your chosen area of focus. (Word count: 150-250 words)
Optional Essay
If any aspect of your candidacy needs further explanation (unexplained gaps in work experience, choice of recommenders, academic performance, promotions or recognition, etc.), please provide a brief description here. (200 words maximum)
Read more about the most popular essays that come up in MBA applications—and how you should answer them.
Yale SOM Executive MBA Interview
Not all applicants are asked to move to the interview stage of the application process, but those who are should prepare adequately for their Yale EMBA interview. Yale describes the interview day as fun, informative, and comprehensive. It is important for prospective students to focus on their unique voice and perspective in their interview, highlighting important aspects of their backgrounds, such as their leadership experience, career trajectory, undergraduate education, and personal values and interests.
For help preparing for your Yale Executive MBA interview, feel free to reach out to our Interview Prep team!
Video Resources on Yale SOM EMBA Admissions
Why Yale SOM?
Yale School of Management's EMBA program is a good fit for working professions hoping to accelerate their career progress in their current field. Yale's Ivy League status attracts students from top corporations, offering great opportunities for networking and learning from impressive peers. Further, Yale has an extensive network of alumni who are leaders in many different industries, giving EMBA students the chance to create impressive business connections and possibly lifelong friendships.
Yale's unique area of focus-based program allows students to connect with and learn from peers working in similar roles or industries. In addition to learning more about general management, students are encouraged to become experts in their chosen area of focus in pursuit of an impactful career in leadership.
Yale SOM EMBA Useful Links
*All data retrieved from the Yale SOM EMBA Program webpages, unless otherwise stated.