How to get into New York University 2022: Acceptance Rate & Tips
NYU hardly needs an introduction. The university has instant brand recognition that stretches across the globe—so much so that the university does little to market itself, compared to many of its peers.
Nonetheless, NYU remains iconic: its unique immersion in New York City, diversity of specialized schools and study programs, and pioneering work in the arts, technology, and business distinguish it even from its uptown rival. Across the world, students dream of studying amidst the hustle and bustle of Manhattan's concrete jungle. They know NYU can serve them that and so much more.
It's no surprise, then, that in 2021-2022, more than 100,000 students applied to at least one of NYU's three campuses in NYC, Abu Dhabi, and Shanghai. And of these, only 12.8% were admitted, and admitted students had an average SAT score of a whopping 1540. Suffice to say, NYU has become drastically more selective in the last decade, with its acceptance rate shrinking by nearly three times since 2013.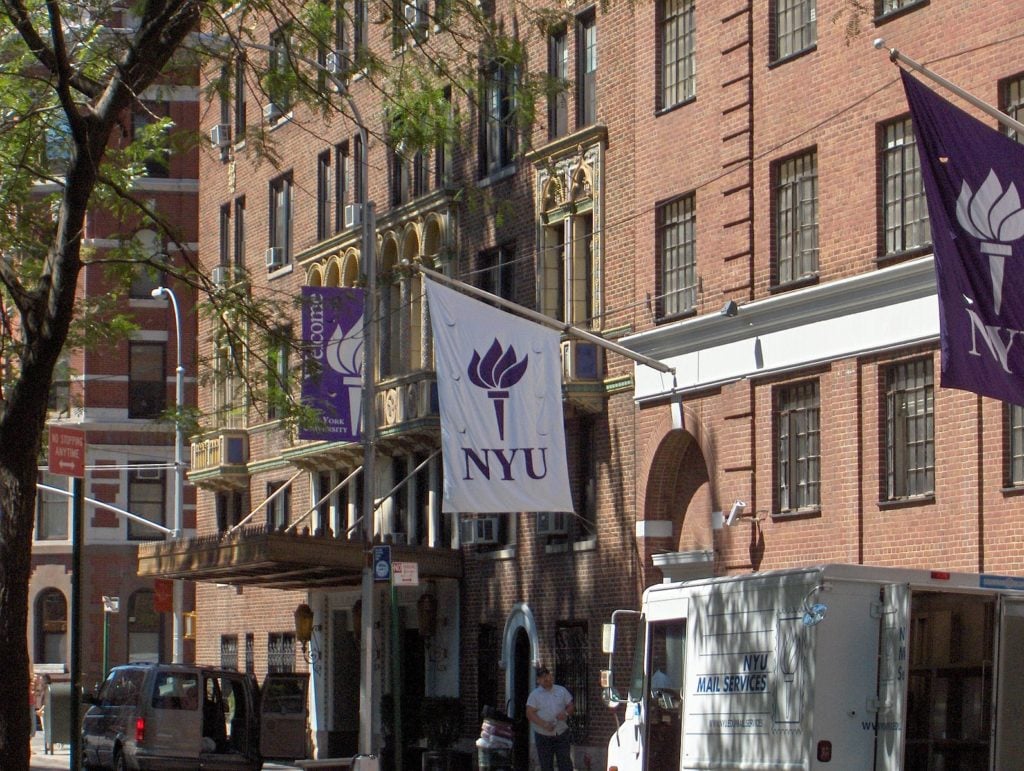 NYU Stern's undergraduate program in business has grown especially competitive because of the unique position it holds among elite colleges who grant Bachelor's degrees in business. Its exposure to New York City's various thriving industries—from Wall Street, to technology startups, healthcare companies, consulting firms, private equity groups, and more—makes it a top choice for ambitious young business leaders who have their sights set on lucrative, high-profile careers. And this ethos is borne out by the numbers: for the Class of 2025, only 7% of applicants to Stern's undergraduate business programs were admitted, and they had an impressive average SAT score of 1507.
Though NYU won't publish statistics for the Class of 2026 for some time, we can compare the class of 2025's 12.8% acceptance rate to the statistics released the previous year for the Class of 2024:
Acceptance Statistics: Class of 2024
| | | | |
| --- | --- | --- | --- |
| Applications | Admitted | Acceptance rate | Average GPA |
| 85,000 | 13,000 | 15% | 3.7 |
SAT Scores
| | |
| --- | --- |
| SAT scores | 1350-1530 |
| Reading and Writing | 680-760 |
| Math | 700-800 |
Note: Overall SAT score (middle 50th Percentile Ranges)
ACT Scores
Note: Overall ACT score (middle 50th Percentile Ranges)
Gender
For more detailed information on scholarships, academic profiles, and student outcomes, see NYU's NYU Facts page.
The numbers are daunting to say the least. But they don't always give the full picture. And they're representative of macro trends in worldwide education that are outside any single person's control. That's why it's more effective to first understand these numbers in context, then use your time to focus on preparing your own personal application as best you can.
Why was there such a big increase in applications?
The spike in application numbers was a trend across most elite American colleges and universities. The simplest explanation for this phenomenon is the decision for many top schools–including NYU–to remove the standardized testing requirement for applicants due to COVID. It's logical that this change led to more students feeling they would be qualified for admittance to the university.
Beyond that, more students than usual who were admitted in the previous cycle deferred their enrollment, leaving fewer seats in the Class of 2025. Some students who'd applied the previous year even decided not to matriculate to any university, given the pandemic. Instead, they chose to take a gap year and reapply to their dream schools. Finally, students are continuing to apply to more and more schools, as evidenced by the 11% increase in applications submitted through the Common App despite an increase of only 2% in the total number of applicants.
All of these factors, among others, contributed to the massive growth in the number of applications to top universities like NYU.
What do you need to apply to NYU?
In order to apply to any of NYU's three campuses as a first-year applicant, you will need to complete the Common Application, as this is the only application that the university accepts. Currently, NYU remains test-optional through the 2022-2023 cycle, so you will not be required to send test scores as part of your application, but you will still be able to do so if you wish.
If you are committed to attending NYU as your first choice college, and are applying Early Decision, you can choose to do so by the Early Decision 1 deadline of November 1, or the Early Decision 2 deadline of January 1. Otherwise, you will need to submit your application by the Regular Decision deadline of January 5.
As you complete the Common Application for NYU, you will need to submit the following materials:
The fully filled in Common Application form
One supplemental essay of up to 400 words on why you want to attend NYU*
Contact information for your school counselor who will fill out the Common Application School Report
Your official high school transcript
Contact information for one or two teachers who will fill out the Teacher Evaluation form
Official records of all college work you have received academic credit for
The Common Application Mid Year Report with your updated grades if these are available
Official score reports (optional for 2022-2023)
English language testing (if you are a non-native speaker and have not been studying in English)
If you are applying to Steinhardt School of Culture, Education, and Human Development, or Tisch School of the Arts, you will also need to submit an audition or portfolio. NYU strongly encourages applicants to these programs to submit their applications one month prior to the application deadline they are targeting.
*This has historically been NYU's required supplemental essay prompt over recent years. They have not yet officially released their writing prompt for 2022-2023. When they do, we will be sure to update it here if there are any changes.
For more detailed information, check out NYU's page on Additional Program Requirements and make sure that you are fully prepared to submit your application to the program of your choice.
What is NYU looking for?
Beyond exceptional performance in academics, NYU seeks students who are driven to get the most out of their experience at an urban campus at the forefront of creative, business, and technological fields. In many ways, NYU considers New York City its de-facto campus, and it is looking for students who have a genuine and compelling reason to take advantage of its cosmopolitan location and culture. This is evidenced also in the way the university promotes its network of study abroad programs.
Many applicants to NYU make the mistake of focusing on generic and predictable reasons to be in New York City. They apply because of the brand and a general sense of excitement at the idea of living in a city that considers itself the center of the known universe. But too often, these applications are unconvincing.
To maximize your chances of admission, you should strive to make your angle truly personal. It helps, of course, if you have had a chance to visit the city and soak in the atmosphere. Maybe you are not actually inclined to attend dozens of shows on Broadway or networking events with investment bankers. Maybe what you really love is finding talented buskers in the subway, tucking up inside a cozy cafe corner, matching wits with diner waitresses, hopping from Chinatown to Little Italy, or people-watching on busy street corners.
Whatever your individual angle might be, show that you will seize opportunities to be socially involved. That you will connect your studies to the thumping heartbeat of the city around you, whether it serves as an inspiration, a resource, or a backdrop. Make sure that your stated goals—personal, academic, and professional—factor in this important element of the NYU experience. Let your curiosity shine and do your research well. But more than anything, lay bare your enthusiasm.
NYU is looking for students who have a genuine connection to the spirit of school and city. If this connection resonates with the Admissions Committee, it will distinguish you from others and significantly boost your chances of admission.
How can you get into NYU?
There are a variety of ways an ambitious high school student can approach the NYU application in order to maximize their chances of admission. The specific decisions of what to highlight and how to make it unforgettable boil down to individual life stories and circumstances that have shaped you into who you are today. That crucial piece of the application—the storytelling—can only come from intensive reflection and earnest hard work. However, there are certainly decisions you can make to position yourself to submit a profile that bolsters your personal story and provides you top ratings on several of NYU's criteria:
Plan ahead to take the most challenging courses offered at your school (and beyond).

Demonstrate your talents or hobbies through pursuing them in new ways and using them to connect with other communities.

Really learn about New York City: subscribe to mailing lists about local events, watch YouTube vloggers who document their experiences in the city, buy a New York Times or New Yorker subscription, follow famous cultural institutions on social media, and more.

Consider honestly how a lack of a real campus environment will work best for you as a learner and person so that you can show the university that you are being intentional about your decision, and thus, that you are highly likely to accept an offer of admission.

Research the special study abroad programs, events, and traditions that NYU proudly promotes; speak to current students about these experiences, if possible.

Challenge yourself intellectually, professionally, and socially in demonstrable ways.

Practice telling adults about who you are and what you care about—make sure to note their confusion or excitement, and use this implicit feedback to improve your storytelling.

Invest significant time in writing and revising your supplemental essays to be as compelling and memorable as possible—do thorough research and carefully consider which of your communities has shaped you most

Explore your academic passions beyond your coursework, ideally through research or other projects that show you wrestling with big questions or problems.

Connect with NYU admissions officers who visit your school or area and ask them relevant, specific questions about your own profile's match with the university.

Seek to understand problems in your community and the world. Be proactive in formulating solutions that are ambitious but achievable. Then, work toward implementing these solutions in a way that integrates modern science and technology.
If you're able to demonstrate your connection to New York City, achieve an outstanding GPA in the hardest classes, engage meaningfully with personal interests and community problems, and take charge of your own goals by acting on your principles, you'll set yourself up to submit an application that will impress the NYU Admissions Committee. None of this is easy, but if you're deeply motivated to be at NYU, use every tactic we've listed above in order to show it.
What are your chances at getting into top colleges?
Check out our College Admissions Calculator–you'll receive personalized feedback about your undergraduate admissions candidacy.
Or contact us directly to get a conversation going.