Insider Insights: Career Exploration for High School Students
In this video, Menlo Coaching's Director of College Admissions, Jason Milan, sits down for a virtual conversation with Lisa Noble, an expert in career exploration and outcomes for students. Lisa is the Director of Employer Engagement and Entrepreneurship at Colby College, and a longtime mentor to young people going through moments of big change in their work and life. Lisa takes us through her unique insights on how a high school senior or junior can begin to explore career interests related to their potential major and post-college plans .
An interview with career and college outcomes expert Lisa Noble
Lisa drops so many actionable nuggets of wisdom in this interview, but several major points stand out. Here are nine key takeaways that motivated students graduating high school should take note of and put into practice:
It's never too early to start paying attention to things that compel you: be in a "discovery and noticing mode" where you seek to make connections between your interests and skills, growing slowly toward understanding what uses of your time will be most fulfilling and highest-impact.
You'd be surprised at how many people are willing to let you volunteer, which equates to hands on career training and experience—all for free! Approach, in particular, nonprofits and small businesses. Assess projects that you can take off their plate and own from start to finish. This will contribute the most value, both for you, and for them.
How to do outreach: start local, even within your town. Introduce yourself politely, say who you are, and make a very simple ask: 10-15 minutes of their time to cover two or three specific topics. Smart topics to cover could include summer employment, short-term or contained projects, or job shadow opportunities. The adult you're talking to will be far more likely to give you their time if your purpose is clear and straightforward — they do not want a meandering conversation. If all goes well, they may well grant you more time and insight than you initially requested.
Even "normal" high school summer jobs that you wouldn't associate with a true career path, like scooping ice cream, or bar backing, or lifeguarding and caddying, can be meaningful if approached through a lens of opportunity. What can you contribute to making your team better, and how have you added value to the culture, future, or bottom line of your business? Make a note of what things were like at the business before you began your summer job, then compare these to the circumstances in your workplace by the end of the summer. See if you can show yourself your influence by calculating the difference in line speed, sales volume, or another important metric of prosperity. Ask yourself about your contributions continually, over the course of any new role, in order to make an impact on any scale.
Want personalized advice on post-college careers?
Tell us about your goals with our college admissions calculator, and we'll get back to you shortly with tips for your profile. Or, skip straight to a free phone consultation to discuss your application strategy with our expert college admissions consulting team.
Enrich your summer with personal projects that relate to your career interests, and which you can fit in around work or other obligations. These don't have to be objectively impressive or ambitious — they should be meaningful to you as an individual, and they should motivate you to be proactive about making something new happen in your life.
The career planning process is a team sport: find a partner who can help you tell your story in a clear and compelling way by helping you see the value you created for your employer, from their perspective. This could be a close friend, school counselor, or a college admissions consultant. Provide this resource for others and you'll build good "career planning karma" — you'll hear yourself in new ways and encounter ideas you wouldn't arrive at on your own.
Cultivate your self-awareness, openness, and curiosity. Pay attention to what is lighting your fire and what is dampening it so that you can quickly iterate on whatever you are doing, and work toward a version of it that is best suited to your motivation. Taking risks and adopting a growth mindset will also breed your time management skills and level of responsibility.
Read broadly in your fields of interest — the stuff that feels fun and engaging, not dry and pedantic. Subscribe to newsletters, YouTube channels, blogs, and more. Let the terminology of different career fields gradually sink into your subconscious until it feels natural. This will be important in helping you decide what is the right path to take.
Nurture relationships with every meaningful contact you make. Follow up on great conversations by sending a thank you note: let them know what you took away and what you will do with their insights. Keep in mind that often, older people are just as intimidated by high school students as you are by them: listen to an adult sincerely in order to validate their work and encourage them to share more.
Career Exploration Exercises
Lisa has been generous enough to share several high-impact exercises that she's developed over her years of helping young graduates in their career exploration. You can jump right in and do these on your own in order to begin making smarter decisions about how to use your free time—and how you can go about finding and pursuing your own career interests.
Exercise 1: Love/Hate Analysis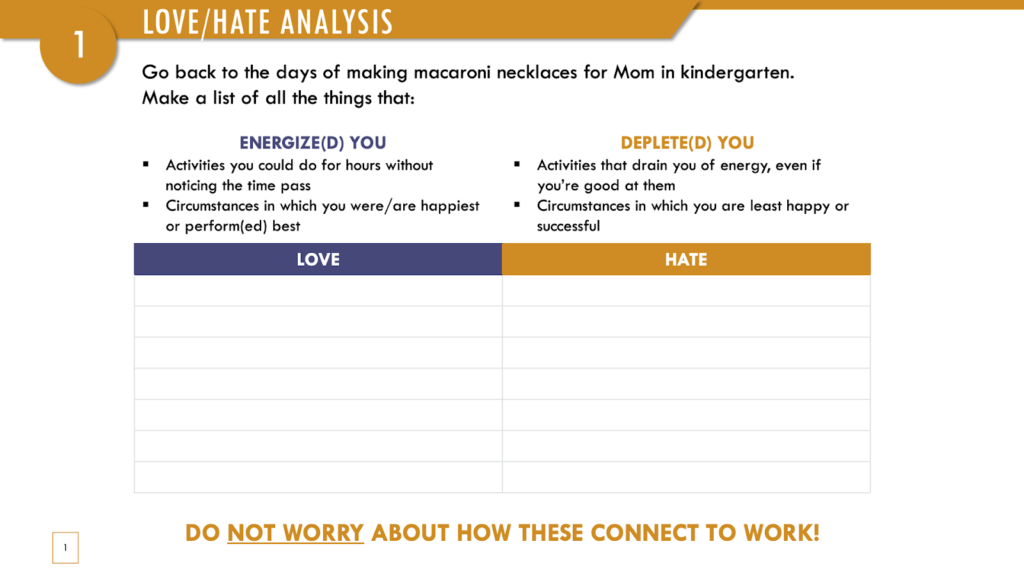 In this exercise, you should take the time to conduct a "love/hate" analysis on activities that you find consistently engaging (contrasted with those activities that deplete you). This approach to identifying your passions will help you down the road as you compare potential careers and the daily tasks you'd be undertaking in a given role.
Exercise #2: Career Planning to Find Fulfillment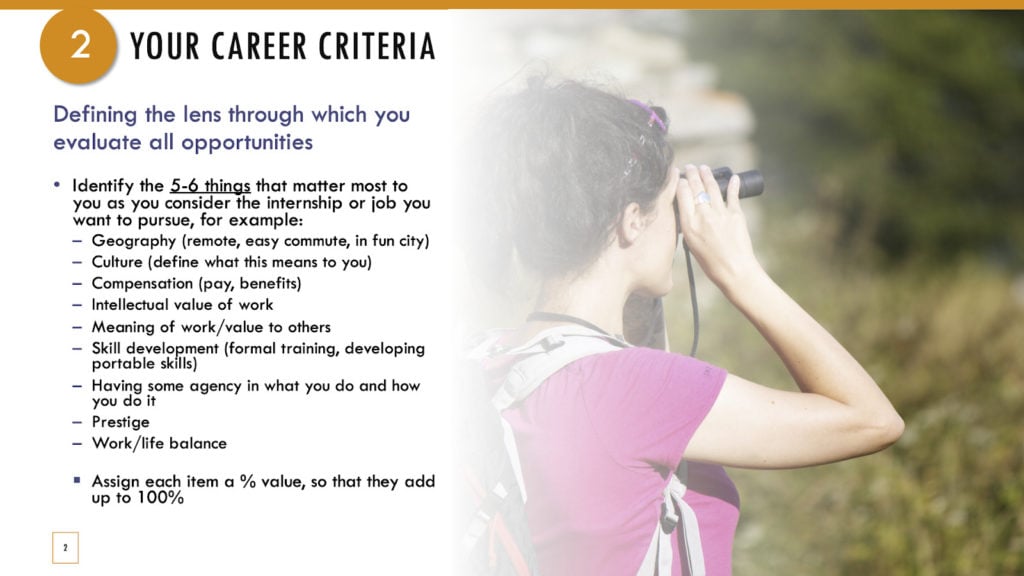 How would you define what matters most to you? With a list of the factors that would most contribute to your personal fulfillment, it will be far easier to evaluate career options in the long- and short-term.
Exercise 3: Career Interests, Personal Interests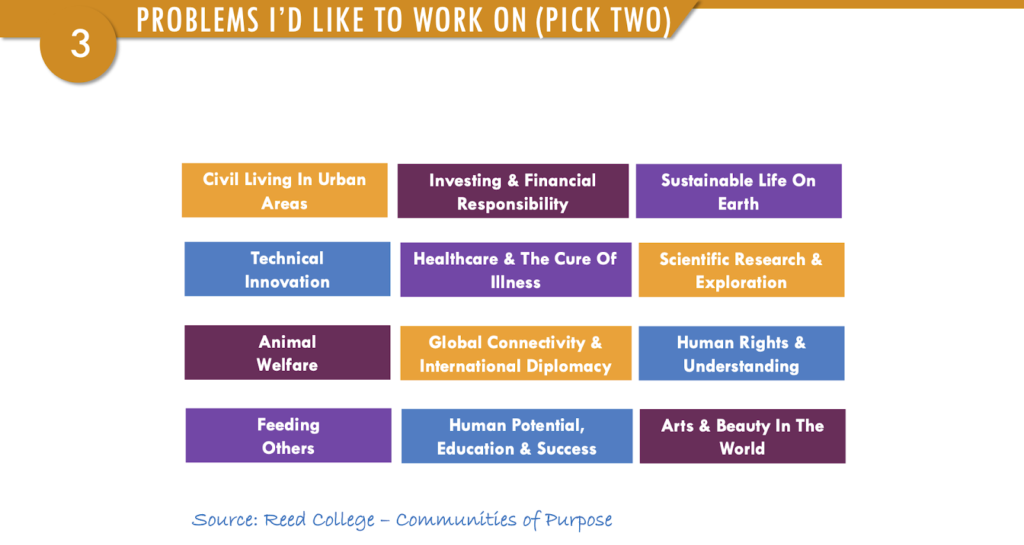 There's an expression by Mark Twain you may have heard: "Find a job you enjoy doing, and you will never have to work a day in your life." For high school students just beginning the process of exploring careers, this advice comes at the perfect moment. If you take the time to determine what kinds of problems you'd like to work on now, you'll be able to spend your years in college working towards a career path that is not only viable, but that will make you happy.
You can download a full PDF of the exercises here.
Psst, — this is just the first in a series of interviews on career planning with Lisa! If you found it helpful, be sure to subscribe to our YouTube channel or sign up for our mailing list so you can be alerted when the next one comes out.