Quick Guide to the UCLA FEMBA—Fully Employed MBA Program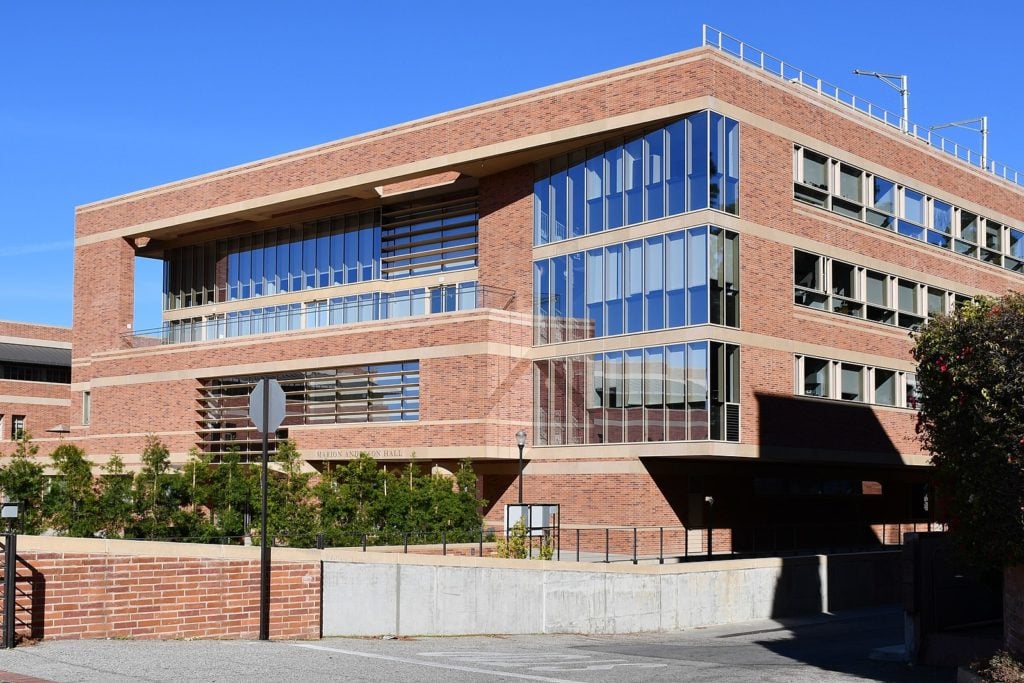 The Anderson School of Business at University of California Los Angeles cannot be discounted when discussing top b-schools, especially if you're looking to find work in the LA region post-MBA. This business school offers both a full-time MBA and a part-time MBA program, known as the fully employed MBA or the "FEMBA".
The UCLA Anderson FEMBA is aimed at those who are seeking to advance in their career while working full-time at their current job. UCLA terms this an "emerging manager's track." While they use the phrase "fully employed MBA" to describe this program, the FEMBA is very much the UCLA Anderson equivalent of what other business schools call a "part-time MBA." This resource page lays out the basics on the University of California – Los Angeles (Anderson) FEMBA program, and covers all you need to know about whether the program is right for you.
UCLA Anderson FEMBA Class Profile
Class Size (students)
217
Age
Average: 30
Range: 22-46
Work Experience (years)
Average: 7
>10 Years: 13%
5-10 Years: 64%
<5 Years: 23%
Average Salary
$109,986
Diversity
Female: 79
Male: 137
Underrepresented Minorities: 11%
GPA
Average: 3.3
GMAT
Median: 667
Range: 600-720
Undergraduate Institutions
117
(Top 5 Represented UCLA, USC,
UCI, UCSB, UCSD)
Academic Background
Engineering: 21%
Business & Management: 18%
Economics: 14%
Top Industries
Financial Services: 10%
Entertainment: 9%
High Tech: 8%
Pharmaceutical/Biotech/Medical: 8%
Health Care Services: 7%
Software: 6%
Aerospace: 6%
Government: 4%
Education: 3%
Petroleum/Energy: 3%
The data above is a profile of the UCLA Anderson FEMBA class of 2025.
Explore the full class profile here: UCLA Anderson Fully Employed MBA Class Profile

UCLA Anderson FEMBA Student Experiences
UCLA Anderson Fully Employed MBA
If you're looking into part-time programs, you may also be wondering how the coursework is structured, and how you can realistically balance working full-time with completing coursework and other program requirements. We hear this question over and over again from applicants who are not applying to full-time programs, so no, you're not alone! We're going to break down the format of UCLA's FEMBA so that you get a sense of what to expect.
UCLA Anderson FEMBA Academics
UCLA Anderson Fully Employed MBA Class Format
You have a few different options to choose from among the available FEMBA class formats. These include:
A weekend format where students attend Saturday classes from 9:30am to 5:15pm with a midday break, and
A Tuesday and Thursday evening format from 6:30 to 9:45pm.
Additionally, the UCLA part-time MBA format is a bit unique compared to other part-time MBAs insofar as it also offers a hybrid format, i.e., one that is a mixture of both online and in-person courses. Whereas other schedule arrangements require that you are on campus every weekend or two weekday evenings every week, the Anderson School of Management FEMBA hybrid course structure is such that you make only four visits per quarter to the campus itself.
These four on-campus visits require you attend a Saturday class format from 11am to 5:30pm with an hour and a half break starting at 12:30pm, and Sunday from 8am to 3pm with an hour long break at noon. The rest of the coursework for the FEMBA is done online in an asynchronous manner. The advantage here is that you do not need to be local to Los Angeles in order to attend UCLA Anderson School of Management. So long as you can make the four requisite weekend trips, you will be able to do the rest of your coursework online.
Other Logistics
There are some important considerations if you are keen on the hybrid format offered by the FEMBA program. Though it opens up the possibility of a non-local attending UCLA Anderson School of Management, the weekends that you do need to be on campus could be challenging transportation-wise. UCLA is located in Westwood, a neighborhood of Los Angeles' "west side" which is notoriously difficult to access (especially during L.A. rush hour).
Most commercial air travel will fly into either Hollywood-Burbank Airport or LAX, both of which are located at least a half an hour away under the best traffic conditions. LAX has subway options that will get you to UCLA with three train changes, but from Burbank, you will have to take a bus, shuttle or taxi a significant portion of the way. It is not for nothing that the official UCLA Anderson FEMBA podcast is called "Drive Time."
UCLA FEMBA Fees
It is also worth noting that, even though the FEMBA can be partly conducted online and over the course of four weekends per quarter, it has the financial price tag associated with any top tier MBA program. In the 2022-2023 school year, the annual UCLA FEMBA cost of attendance was $43,940. (You can see a full breakdown of that cost on UCLA Anderson's financing page.) As a result, it may be worth considering financial aid through federal and private loans as well as Anderson FEMBA's fellowship programs.
UCLA Anderson Fully Employed MBA Curriculum
The UCLA FEMBA curriculum typically takes between two and half and three years to complete. During that time you'll take 44 units of their core curriculum and 36 units of elective curriculum. Your first year will consist largely of core courses including "Data & Decisions," "Organizational Behavior," and "Marketing Management."
By the time your second year begins, you will have switched over to mostly elective courses. During this time, you can build out your MBA specialization. These include typical MBA focuses like finance and marketing, but also have some more specific areas like entertainment management and real estate.
Your third year will allow you to pursue one of Anderson's global experience programs. These might include semesters abroad or an intensive week-long study abroad program combined with on-campus lectures that UCLA Anderson calls its Global Immersion Program. You will also participate in the capstone project, an experiential learning program that allows you to participate in a business creation, asset management, or global access project.
UCLA Anderson Fully Employed MBA Application
Make sure to consult the UCLA Anderson FEMBA application requirements, taking note of any deadlines. Below, we discuss the latest essays that are required as part of the application, and the part-time program interview process.
UCLA Anderson FEMBA Essays
Here are the prompts for UCLA FEMBA's 2022-2023 application:
1. Tell us about yourself and what you will bring to the learning community at UCLA Anderson. (500 word maximum)
2. What are your short and long term career goals and what aspects of UCLA Anderson will support you in achieving those goals? (500 word maximum)
UCLA Anderson Fully Employed MBA Interview
The part-time MBA at UCLA has an on-campus interview. You will be prompted to register for this interview immediately after submitting your application.
UCLA Anderson Fully Employed MBA Admissions
Why UCLA Anderson?
As a part of the most prestigious system of public universities in the country, the University of California – Los Angeles (Anderson) has access to a myriad of research centers and libraries. Access to these resources, even in the relatively low-impact hybrid format, might be invaluable for your future success. Additionally, if you are interested in real-estate or entertainment management, Anderson has a unique specialization for each. Real estate specialists will also have access to the world famous Ziman Center for Real Estate. The hybrid class format also allows you to have a low-travel solution if you are commuting from outside the Greater Los Angeles area.
UCLA Anderson Fully Employed MBA Useful Links
Related Articles
*All data retrieved from the UCLA Anderson Part-Time MBA Program webpages, unless otherwise stated.