NYU Stern: Part-Time MBA Program Guide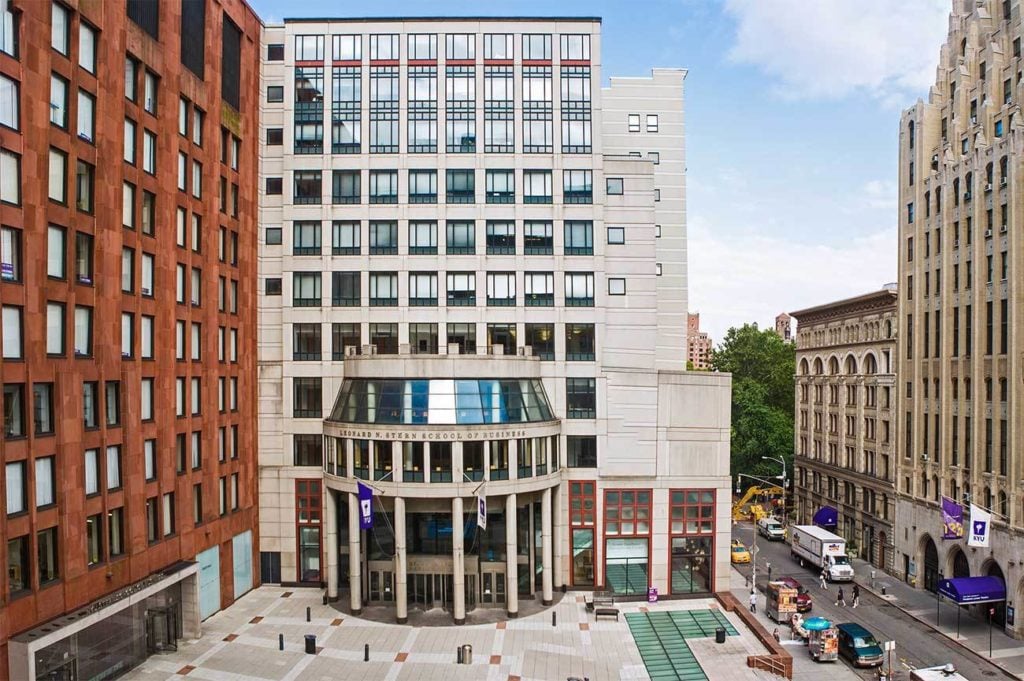 The Stern School of Business at New York University is consistently on the list of top business schools worldwide. This business school offers a full-time MBA program, an executive MBA program, and a part time MBA program for those who cannot leave their work full-time to pursue their degree. Here, we talk about NYU Stern's part-time MBA program.
Part-time MBA formats are aimed at those who need to work while getting their degree and follow a class schedule that takes the industry workweek into consideration. This resource page lays out the basics on the NYU Stern's part-time MBA program, and covers all you need to know about whether the program is right for you.
NYU Stern Part-Time MBA Class Profile
Enrollment Statistics
Fall 2022: 221
Work Experience (years)
Range (90% range): 1-11
Diversity
Female: 49%
Minority: 41%
International: 21%
Underrepresented Minorities: 18%
Number of Countries Represented: 29
GPA
Average: 3.52
GMAT
Average: 670
Represented: 30%
GRE
Quantitative Average: 160
Verbal Average: 159
Represented: 18%
EA
Represented: 9%
Undergraduate Majors
Business/Economics: 58%
Engineering/Math/Science: 23%
Social Science/Humanities/Arts/Other: 19%
Top Industries
Financial Services: 31%
Healthcare, Pharmaceuticals: 13%
Technology: 9%
Consumer Products, Retail: 9%
Consulting: 8%
Nonprofit, Arts, Education: 5%
Real Estate: 3%
Entertainment, Media: 3%
Advertising, Public Relations: 2%
Engineering: 2%
Manufacturing, Import/Export, Trade: 2%
Military, Government: 2%
Energy: 1%
Other: 10%
The data above represents the NYU Stern Part-Time MBA entering class of 2022.
Explore the full class profile here: NYU Stern Part-Time MBA Program
NYU Stern Part-Time Student Experiences
NYU Stern Part-Time MBA
If you're looking into part-time programs, you may also be wondering how the coursework is structured, and how you can realistically balance working full-time with completing coursework and other program requirements. We hear this question over and over again from applicants who are not applying to full-time programs, so no, you're not alone! We're going to break down the format of the Stern part-time MBA so that you get a sense of what to expect.
NYU Stern Part-Time MBA Class Format
The NYU part-time MBA offers different class formats: including a flexible weeknight option, and an option with Saturday classes. Each has a different set of strengths and limitations that are worth considering in detail.
The weeknight option is the most popular of the part-time formats. Spring and Fall semesters are 12 weeks long with courses held from 6-9pm one night a week. Summer session is divided into two six-week semesters and classes are held two nights a week. At the start of the program, you are placed into a cohort with either a Monday/Wednesday or a Tuesday/Thursday block schedule; however, after the first two semesters, you can choose the nights during which you would like to take classes. There is also a chance to take accelerated classes during January and the late Summer session where additional class meetings may be held on weekends. You can look at their weeknight sample schedule to get a sense of how this might break down for you.
The Saturday option has the same semester breakdown with 12-week sessions in the Spring and Fall, and more intensive periods in January and the summer. The main difference is that classes are held on Saturdays 9am-12pm or 1-4pm. You are placed in a cohort with either the earlier or later time, and have the option to take courses at either time and on weeknights after the first two semesters. Intensive periods like January and late summer will have you taking classes at both Saturday times. You can check out a sample of the three year Saturday schedule to learn more.
In each case, faculty hold office hours outside of class times and often record lectures for later, remote viewing.
Other Logistics
The MBA at New York University also offers an accelerated two-year version of the program mentioned above. The schedule is identical to the weeknight schedule but with a heavier course load each semester. It cannot be taken with a Saturday option. NYU Stern notes that this schedule leaves less time for extracurricular activities, but that it is not set at a disagreeably grueling pace. You can check out their accelerated two year sample schedule to see if this option could be right for you.
NYU Stern Part-Time MBA Curriculum
The Stern part-time MBA offers a broad core curriculum that is designed to help students understand the wide spectrum of business fundamentals. They are also mindful of their part-time students' time, offering a clear path to establish proficiency in many of their core courses, thereby allowing students to bypass them if they meet the qualifications.
After the core curriculum is finished, students can specialize in up to three areas out of a possible twenty six, including accounting, business analytics, FinTech, and luxury marketing. That is on top of a number of skill-based workshops outside of the specialization spectrum where MBAs can develop specific proficiencies. Past workshops have included Excel basics for business apps, the foundations of innovation and design thinking, and an introduction to cyber security.
NYU Stern Part-Time MBA Application
Make sure to consult the eligibility and selection criteria and application requirements for NYU's part-time MBA program, taking note of any deadlines. Below, we discuss the latest essays that are required as part of the application and the part-time program interview process.
NYU Stern Part-Time MBA Essays
As part of the application process to Stern's part-time program, you will have to complete two required essays and one optional essay. These essays are intended for the AdCom to get to know you better. Here are the prompts for NYU's current application cycle.
This essay is truly optional, and nothing is required here. It is simply an opportunity to provide any additional information that you feel is important in assessing your candidacy to the part-time MBA program and therefore would like to bring to the attention of the Admissions Committee.
For example, this may include significant current or past gaps in employment, further explanation of your undergraduate record or self-reported academic transcript(s), plans to retake the GMAT, GRE, EA, IELTS, or TOEFL, or any other relevant information.
If you are planning to attend the Langone part-time MBA program and do not currently live in the NYC metro area, please indicate your plans to pursue the program. If you are planning to relocate to the NYC area, please indicate your plans for employment.
We recognize that in some cases this information may be able to be provided in just a few short sentences. Therefore, you should not feel compelled to write a long essay on something that can be conveyed succinctly.
NYU Part-Time MBA Interview
MBA interviews for NYU Stern are offered by invitation only. After applying, should you be invited, you will be able to schedule one via your application status page. They are usually conducted by trained professionals in the Admissions department and are held in person, by phone, or by video conference.
NYU Stern Part-Time MBA Admissions
Why NYU Stern?
In addition to being New York City—the financial capital of the world and home to a wide variety of business headquarters—NYU Stern offers a variety of experiential learning opportunities through the Stern Solutions program. Past projects run through this program have included working on real-world business issues from branding to impact investing in family offices.
There are also global opportunities including "Doing Business In…" (DBi) programs located around the world. All of this is in addition to NYU Stern's wealth of resource and research centers and initiatives which include Endless Frontier Labs, the NYU Pollack Center for Law and Business, and the Salomon Center for the Research of Financial Institutions.
NYU Stern Part-Time MBA Useful Links
*All data retrieved from the NYU Stern Part-Time MBA Program webpages, unless otherwise stated.