Everything You Need to Know about the MIT Executive MBA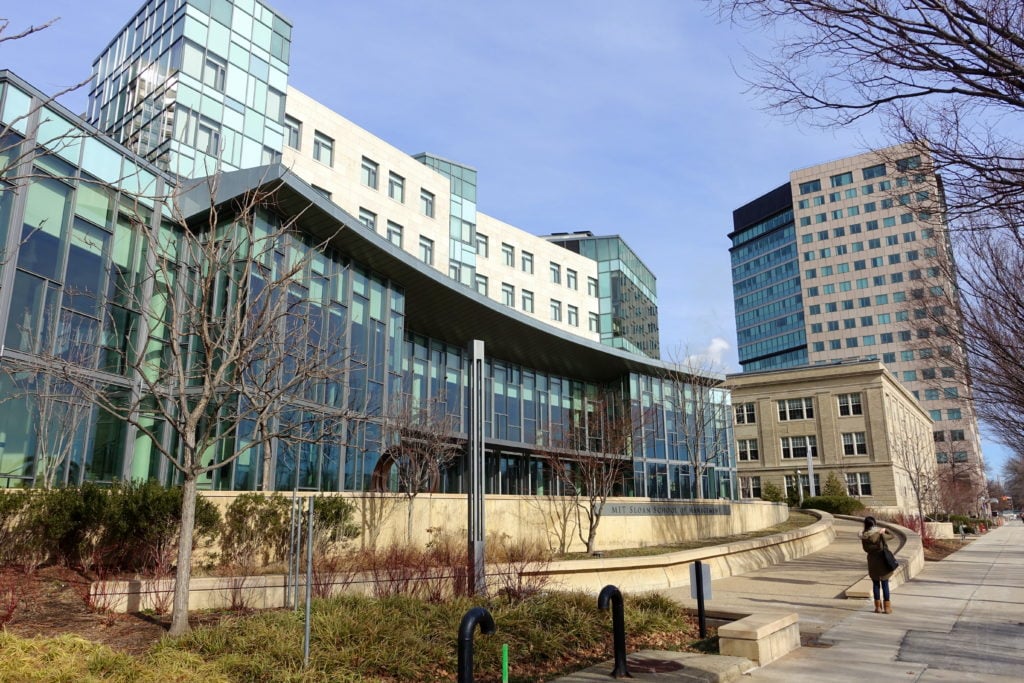 MIT Sloan is consistently among the top-ranked business schools. However, if you have more than 10 years of work experience, you should consider applying to their Global Executive MBA Program, which is tailored towards mid-career professionals.
As a busy manager, it can be difficult to find the time to research EMBA programs. This article is here to help — we'll tell you everything you need to know about the MIT Executive MBA program so that you can decide whether it's right for you, and learn about what MIT Sloan looks for in an EMBA applicant and what makes the program different from the other EMBA programs.
This article not only includes basic stats and commentary, but also a curated selection of the best video content published by MIT Sloan about its EMBA program.
MIT Sloan Executive MBA Class Profile
Class Size
126
Age/Experience
Age: 41
Average Years of Work Experience: 17
Sponsored by Employer
Approximately 60%
Advanced Degrees
49%
Diversity
Women: 32%
International: 49%
Non-local: 71%
Geography
United States: 93%
Mid-Atlantic: 5%
Midwest: 6%
Northeast: 52%
South: 12%
Southwest: 9%
West: 9%
International: 7%
Company Size
10,001+: 42%
2,501-10,000: 22%
501-2,500: 11%
101-500: 9%
25-100: 6%
Fewer than 25: 10%
Seniority
Director Level and above: 82%
Director: 42%
Vice President: 21%
C-level: 19%
Manager: 13%
Founder: 5%
Industry
Healthcare/Hospitals/Pharma/Biotech/Medical Devices: 20%
Software/Technology: 18%
Banking/Financial Services: 11%
Food and Beverage/Consumer Products: 7%
Aerospace/Transportation: 7%
Manufacturing: 7%
Education/Non-Profit: 6%
Telecommunications Services/Utilities: 4%
Construction/Engineering/Energy/Mining/Chemicals: 4%
Government/Military: 3%
Management Consulting: 2%
Printing/Publishing: 2%
Entertainment/Media/Sports: 2%
Advertising/Marketing: 2%
Other: 5%
The data above is a profile of the MIT Sloan Executive MBA class of 2023.
Explore the full class profile here: MIT Sloan EMBA Class Profile
MIT Sloan EMBA Student Experiences
The MIT Sloan Executive MBA
If you're looking into Executive MBA programs, you may also be wondering how the coursework is structured, and how you can realistically balance working full-time with completing coursework and other program requirements. This is one the most frequently asked questions among potential EMBA applicants, you are not alone! To help alleviate those concerns, we've outlined the structure and other logistics of Sloan's Exec program below.
MIT Sloan EMBA Class Format
The MIT Executive MBA class truly enters as one. The program has only one entry date per year, which is in September. The EMBA program schedule is distributed over a 20-month period. Here's the breakdown:
Classes every third weekend. While most EMBAs do offer classes over the weekend, Sloan's program gives you more flexibility by scheduling coursework once every three weeks, as opposed to every other week. These classes take place over Friday and Saturday.
One week modules every six months. Historically, these week-long executive modules have taken place in the months of October and March during the first year, and in October and May of the second year.
One week long international project trip. Towards the end of your EMBA, you will be required to complete a week-long global lab. In previous years, this global lab has taken place in March.
It's easy to see the large degree of flexibility offered to Sloan EMBA students while they complete their degree. With regular classes scheduled only once every three weeks, this program is less rigid than some other top EMBA programs.
Other Logistics
MIT Executive MBA Cost
For the class of 2024, the total tuition costs will amount to $192,000. In addition to textbooks and other academic materials, these fees also include travel expenses for the Global Labs Project trip. Hotel accommodations are not included in these costs. If needed, you will also need to pay for health insurance separately from these other costs.
MIT Sloan EMBA Curriculum
The MIT Sloan EMBA Curriculum is set up to be completed within 20 months. As part of the curriculum, you will be required to participate in the following four modules:
Leadership and Integrative Management
Innovation Driven Entrepreneurial Advantage
Leading in a Global Context
Leading with Impact
These modules are immersive, and you will find yourself well connected to the MIT community during this time. In these six- to nine-day long modules, you will collaborate with your classmates on projects and attend events in the evenings. The final module, Leading with Impact, is the capstone module for the program.
Along with these modules, you will also have the opportunity to take various elective courses during the EMBA program. You can choose one or two electives each January, and take two electives in the final spring semester. These electives will be selected by the class as a whole. Some courses up for grabs include topics in Competitive Strategy, Organizational Processes, and Risk Management.
It is also worth noting that you can also register for courses in MIT's full-time program. Moreover, because of the relationship between MIT and Harvard, it is possible to cross-register for classes at HBS in their full-time MBA program as well.
Video resources on MIT Sloan EMBA Academics
MIT Sloan Executive MBA Application
Applying to business school can be a daunting process for many of you who have spent the last few years in the workforce. Many of our clients aren't quite sure where to begin. Below, we outline the two main parts of the MIT Sloan EMBA application to get you started: the essays and the interview process.
MIT Sloan Executive MBA Essays
As part of the application process to the MIT EMBA program, you will have to complete three essays. These essays are intended for the Sloan Admissions Committee to get to know you better. We've listed the current EMBA essay prompts for you below:
Statement of Purpose

Please provide a statement on your qualifications and motivations. Describe personal and professional achievements. What is motivating you to apply to the MIT Executive MBA at this point in your career? (upload file, 500 words)

Leadership

Tell us about how you inspired your team, and what you learned about yourself as a leader, through a recent difficult time. (text box, 300 words)

Diversity

MIT Sloan finds strength through diversity. We believe that a commitment to diversity, inclusion, equity, and well-being is a key component of both principled leadership and sound management practice. We seek to create a community that encompasses all dimensions of diversity and fosters excellence within MIT Sloan. This includes diversity of identity, thought, role, and perspective.


Please describe a time when you contributed toward making a work environment or organization more welcoming, inclusive, and diverse. (text box, 250 words)

New Idea

Please tell us about a time when you introduced an idea that changed the way in which your organization approached a business challenge or opportunity. What factors did you consider, what barriers or obstacles did you face, and how did you measure success. (text box or upload file, 500 words)

Professional Summary

To assist your classmates, professors, and the MIT Executive MBA staff in getting to know you, please provide a paragraph of up to five sentences summarizing your background and work experience. You may include information about your current company and position, previous experience, education, personal interests, and/or family. (text box, 100 words)

Tips:


Write in third person perspective.
Write in complete sentences.
See our Student Profiles for examples.
MIT Sloan Executive MBA Interview
In order to be accepted into MIT Sloan's EMBA program, you must successfully complete an interview, which is only available by invitation. Invites to interviews are usually given out 2-4 weeks after submitting your application. In general, you should hear back from the admissions committee about your application 4 weeks after your interview.
Video Resources on MIT Sloan EMBA Admissions
Why MIT Sloan?
One aspect of the MIT Sloan EMBA that truly distinguishes itself from other programs is the fact that the EMBA is really geared towards those who are further out in their careers. This is evident from the fact that the class of 2023 boasted an average of 17 years of work experience, as opposed to some other EMBA programs like the Columbia Business School's EMBA program, whose students have an average of 9 years of work experience. At MIT Sloan, 83% of the class holds a position at the Director level or higher. This means that your classmates are well equipped to help you form a network of individuals who are successful in their field.
When comparing MIT Sloan's EMBA schedule with that of other programs, one notable feature is that there is one class format for everyone. A single class format will help you get to know your classmates better, as they will be on campus the same days as you. This in turn will help you feel more integrated into campus and allow you to form a deeper network of connections. At the same time, the program still offers the flexibility needed for those who concurrently hold full-time positions.
MIT Sloan EMBA Useful Links
*All data retrieved from the MIT Sloan EMBA Program webpages, unless otherwise stated.