How to Maximize the Experience: The MBA Tour and the MBA Fair
Many applicants look at MBA fairs and don't see the value. After all… who really enjoys hotel convention centers? But given the importance of networking with your target MBA programs, it is important to learn as much as possible about a school in a way that goes beyond reading the course catalog and looking at the school's website. MBA fairs and multi-school events can be a great way to network with business schools, which will enrich your essays and application materials. And they'll often be held in a city near you.
Where can I find MBA Fairs?
Several organizations run quality MBA fairs and tours. The event that attracts the highest number of top schools is the CentreCourt MBA Festival run by Poets&Quants. Recent events have hosted admissions directors from top MBA programs such as MIT Sloan, Darden, Kellogg, Yale SOM, Ross, IESE, and others. John Byrne, who organizes these events, always manages to find great event spaces in addition to recruiting top schools, making CentreCourt events a very enjoyable experience.
Another common MBA fair is the QS World Top MBA Tour. The QS World Top MBA Tour is near-ubiquitous, but one should be forewarned that the MBA programs attending are often lower ranked. For example, at their flagship event in New York 2019, the list of schools attending included University of Alabama, Georgia State, and UC Irvine. If these are your target schools, this event can be valuable to you, but if you are targeting higher ranked schools you should check the list of participating schools carefully before you book your tickets.
The third organization worth mentioning is Access MBA. The quality of the schools in attendance varies from city to city, so MBA candidates should take this one on a case-by-case basis.
Finally, for women, there are the Forté Forums, which bring together students, alumnae and admissions officers from top schools to teach you about the value of an MBA program. If one of these upcoming events is near you, then you owe it to yourself to attend.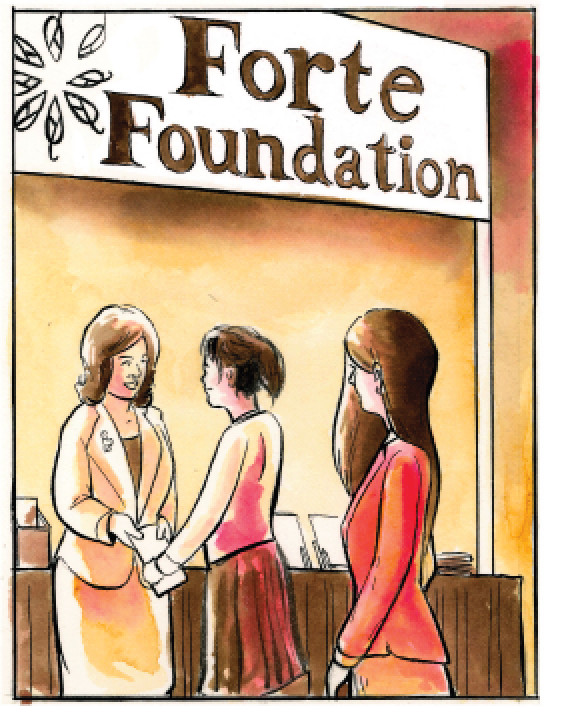 In addition to these organizations, there are also multi-school events which are organized directly by the MBA programs themselves without for-profit sponsors. These can be found on the events pages of individual universities and business schools (which is also a way to find single-school information sessions, too).
What are the Advantages of Attending MBA Fairs?
There are a number of good reasons to attend MBA Fairs.
They come to almost every major city. You name it: New York, Dallas, San Francisco, Los Angeles, Boston, Seattle, and even big international business cities like Beijing, London, Paris, and Amsterdam. MBA fairs are convenient, and it's likely that you can participate in an MBA fair in your corner of the world on a date that will suit your schedule.
They are efficient in terms of your time: you can meet multiple programs in a single trip. This can be especially important if you have some interest in a large number of schools and are trying to narrow down your list.
Attending the fairs will send a direct signal to the schools that you are interested in applying. Typically, you will be given a badge at such events with a barcode that admissions officers will be able to scan. This is done to better focus their outreach on students who are actually interested in applying.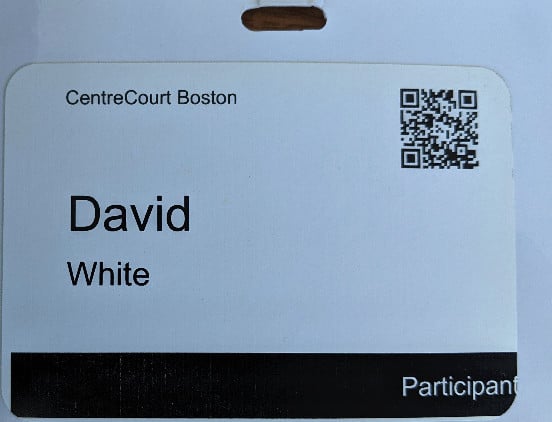 When I attended CentreCourt, I visited some schools and not others. Every school that scanned my badge sent an email telling me "David, we were so happy to meet you at CentreCourt!" On the other hand, every school that didn't scan my badge sent a note to say "David, we were so sorry to have missed you at CentreCourt." They register your interest in the school's database and they will not forget, so make sure you stop by every school you're interested in pursuing.
What Are the Disadvantages of MBA Fairs?
If you plan on attending MBA fairs, you should be aware of some of the drawbacks of the format.
The top-ranked school at any given fair is likely to be swamped by prospective students and that means you are unlikely to have a lot of quality time to speak with an admissions officer. If you've been to a job fair, you have likely experienced the "circle of death" where one person is surrounded by ten to fifteen applicants all vying for their attention.
Unlike campus visits, attending MBA fairs won't allow you to meet a large group of current students or visit a class. Getting a sense of the advantages and disadvantages of attending the school will be heavily skewed by talking only to business school representative, admissions officers, and alumni and you won't have the opportunity to approach a wide range of current students.
How to Maximize the Value of MBA Fairs
Arrive early. If you are there at the very start, you will be able to visit some of the top schools before a crowd forms.
Get the business cards of school representatives. In doing so, you will be able to connect with follow up emails in the future. You will have the opportunity to further make your interest known as well as to ask them questions about the school and the MBA application process in a lower pressure environment without the clamor of other potential applicants.