Everything You Need to Know about the NYU Stern EMBA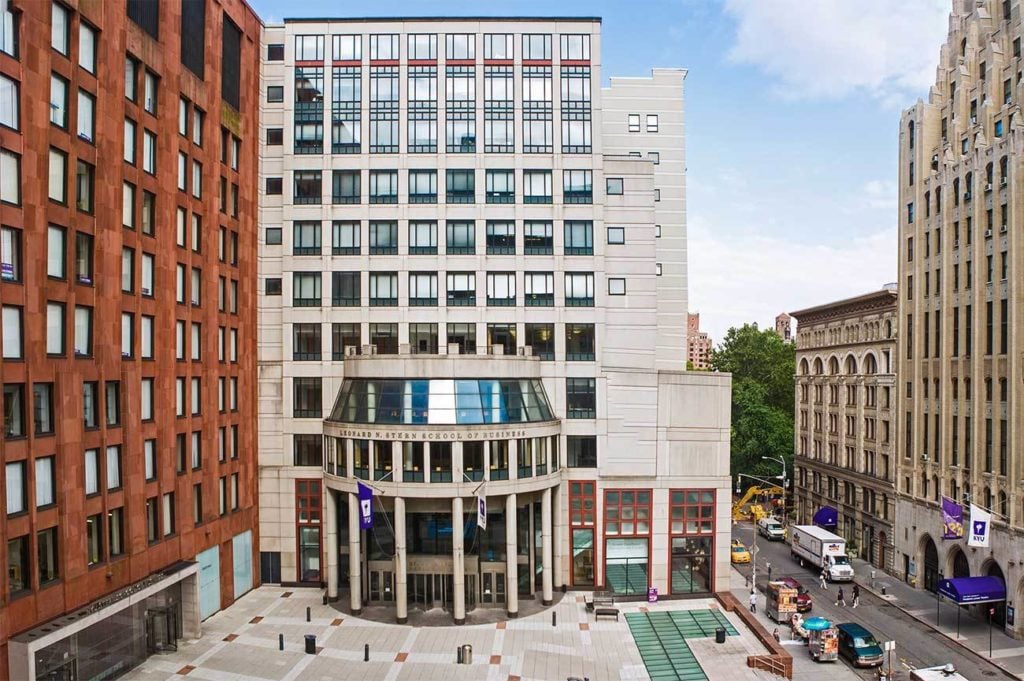 When discussing top business school programs, NYU's Stern School of Business is often on the list. This business school offers both a full-time MBA program and an MBA program for Executives.
Oftentimes, when you fall into the "Executive" category, it may have been awhile since you've experienced a collegiate environment or thought about an application process. Especially with a full workload, it can be difficult to begin your research into deciding which programs to apply to. Congratulations on starting that process by coming here! This page is designed to give you everything you need to know in order to decide whether or not NYU Stern's EMBA is right for you.
NYU Stern EMBA Class Profile
The NYU Stern EMBA offers two options for study in the US: one in New York City and the other in Washington, D.C. The typical class make up for each of these programs is shown below. (Note: This varying data in the following two tables represents the information provided on the websites of each regional Stern MBA program, respectively.)
NYU Stern EMBA, New York City
Age/Experience
Age: 38
Average Work Experience (years): 14
Diversity
Women: 35%
International: 40%
Advanced Graduate Degree
30%
Explore the full class profile here: NYU Stern EMBA Class Profile, NYC
---
NYU Stern EMBA, Washington, D.C.
Class Size (student per cohort)
50
Experience
Average Work Experience (years): 13
Diversity
Women: 36%
DC Area Residents: 66%
Travel (Across the US to DC)
34%
Explore the full class profile here: NYU Stern EMBA Class Profile, D.C.
NYU Stern EMBA Student Experiences
The NYU Stern Executive MBA
If you're looking into EMBA programs, you may also be wondering how the coursework is structured, and how you can realistically balance working full-time with completing coursework and other program requirements. This is one of the most frequently asked questions among potential EMBA applicants— you are not alone! To help alleviate those concerns, we've outlined the structure and other logistics of Stern's Executive MBA program here.
NYU Stern EMBA Class Format: New York vs. D.C.
As we mentioned earlier, you may choose to enroll in NYU Stern's EMBA program either at the New York City campus or at the Washington D.C. campus. The two programs are roughly the same, but with some differences. For instance, the Executive MBA curriculum for the NYC campus is spread out over the course of 22 months, and has two distinct entry periods: August and January.
Here is the breakdown of the NYC program schedule:
Classes are held on Fridays and Saturdays approximately twice a month.
There are two, week-long residency tours: a local one in year one and a global one in year two.
A Time Sponsorship form from your employer is required prior to entry.
On the other hand, NYU Stern in DC takes place over 24 months with a single, August entry period.
Here is a breakdown of the D.C. program schedule:
Classes are held once a month on a consecutive Friday, Saturday, and Sunday.
There are three residencies across the program. In year one, there is a Westchester, NY residency and a week-long global residency. In year two there is a nine day residency consisting of two consecutive weekends and the intervening week at the NYU Stern New York City campus.
A Time Sponsorship form from your employer is required prior to entry.
NYU Stern Logistics
For the incoming classes of Fall 2021 and Spring 2022, the MBA was projected to be $208,080. Applicants are not required to secure financial sponsorship from their employers. However, Stern provides a number of talking points to help convince employers of the benefit of sponsoring your time (and possibly your tuition) at Stern.
There are scholarships available both for merit and need. Financial aid is also available and laid out on their website.
NYU Stern EMBA Curriculum: New York vs. D.C.
Executive MBA students at NYU Stern in New York begin with the core curriculum during the first year. It is designed to give them a fundamental grounding in a variety of business disciplines. Class content is a mix of perspectives based in both theory and practice. Students participate in Global Study tours which involve a week long residency in an important and dynamic international market.
In the second year, you'll choose from 12 elective courses, which help to tailor your EMBA program to your goals and interests. Here is a list of recent specializations which past students have chosen from. Some of these specializations cover areas such as Product Management, Leadership, and Global Business.
At NYU Stern in D.C., you'll still start with the core curriculum in year one. In year two, however, you will take elective courses that work towards a specialization in one of the following four areas: Finance, Leadership. Strategy, and Tech/Analytics.
Video Resources on NYU Stern Academics
NYU Stern EMBA Application
Applying to business school can be a daunting process for many of you who have spent the last few years in the workforce. Many of our clients aren't quite sure where to begin. Below, we outline the two main parts of the NYU Stern EMBA application to get you started: the essays and the interview process.
NYU Stern EMBA Essays
As part of the application process to the Stern EMBA program (at either campus), you will have to complete two required essays and an optional essay, if you would like to share any additional details on your application. These essays are intended for the Admissions Committee to get to know you better. We've listed the current EMBA essay prompts for you below. All essays have a 500 word limit.
Career Goals

Describe your short- and long-term career goals and how the NYU Stern Executive MBA program will help you accomplish them. (upload file, 500 words)

Contemporary Issue

NYU Stern is committed to helping students develop a deeper set of professional skills and a broader perspective of the role of business in the world.

a) What is a significant contemporary issue on which you, a business leader, would like to have an impact?

b) Why is it important to you?

c) How could you leverage your skills and resources to address the issue?

(upload file, 500 words, double-spaced)
Additional Information (Optional): Provide any additional information for the Admissions Committee. This may include additional details on your academic/quantitative preparation for MBA coursework through educational or professional experience, further explanation of academic history, current or past gaps in employment, or any other information relevant to your application.
NYU Stern EMBA Interview
The admissions interview at NYU Stern for the EMBA program will take place after you submit your resume as part of the "pre-application" process. The interview is 30-45 minutes long and scheduled with a member of the Stern Admissions Committee. It is formal and evaluative, and it focuses on your background, career goals and interest in the program. Business attire is required. You will submit your formal application after the interview.
Video Resources on NYU Stern EMBA Admissions
Why NYU Stern?
One of NYU Stern's highlights is beyond doubt its location in two major cities on the East Coast! The downtown location in New York City even outshines Columbia in this regard. A major benefit of the NYC location for the Stern School of Business is its strong relationship with industries in the luxury retail sector. The Council of Fashion Designers of America and the Doing Business in Italy experiential learning programs, combined with the Luxury and Retail and Graduate Marketing Association clubs on campus, are reflective of Stern's dominance in this area.
Stern's D.C. EMBA campus also gives you an opportunity to pursue a globally focused business degree in the nation's capital. The D.C. program also has some additional features that may be of interest to those of you who would like to spend time in both D.C. and NYC. With the additional, nine day residency in NY its third year, NYU Stern's DC program is also very focused on building connections and networks within New York City.
NYU Stern EMBA Useful Links
*All data retrieved from the NYU Stern EMBA Program webpages, unless otherwise stated.