The Kellogg Part-Time MBA: Program Overview & Guide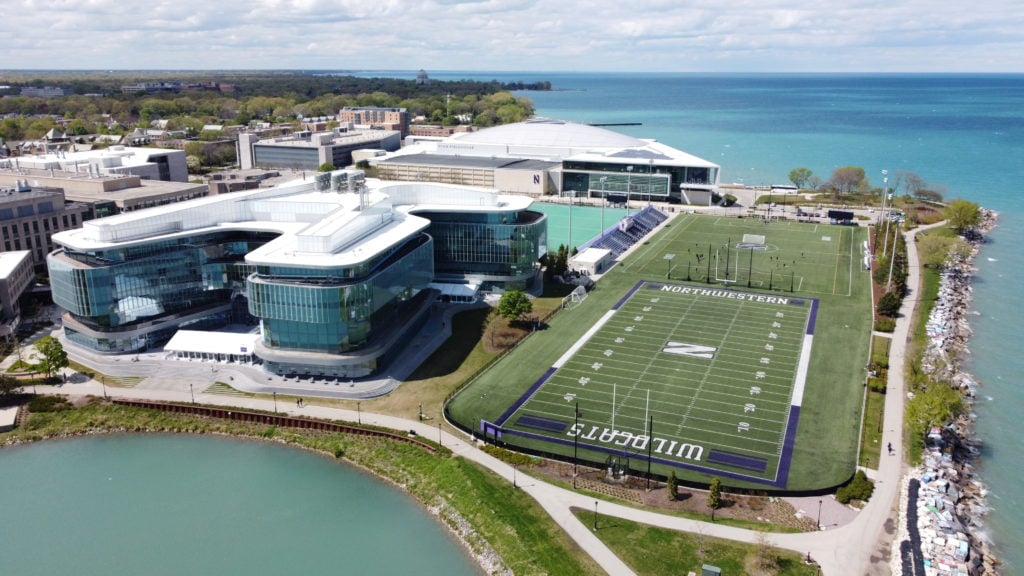 When discussing top business school programs, Northwestern's Kellogg is often on the list. The Kellogg School of Management offers both a full-time MBA program and a part-time MBA program for those who cannot leave their work full time to pursue their degree.
The Kellogg part-time option, i.e. the "Evening & Weekend MBA Program", is designed for those who will continue working while obtaining their degree, and subsequently need a class schedule that takes the industry workweek into consideration. This resource page lays out the basics on the Northwestern Kellogg part-time MBA program, and covers all you need to know about whether the program is right for you.
Kellogg Part-Time MBA Class Profile
Age/Experience
Age: 29
Average Work Experience (years): 6
Diversity
Women: 35%
U.S. Minority: 32%
International: 11%
Undergraduate Degrees
Business/Economics: 49%
Stem: 38%
Humanities: 14%
Geography
69% (student commute out of state)
Jobs by Industry
Financial Services: 18%
Health/BioTech: 13%
Tech/Communications: 13%
Consulting: 12%
Manufacturing: 9%
Consumer Products: 8%
Energy: 5%
Marketing & Media: 2%
Government/Education/NonProfit: 2%
Other: 17%
The data above is the profile of the Evening & Weekend MBA class 2021 entrants.*
See the full report: Kellogg Evening & Weekend MBA Program
The Kellogg Part-Time MBA
If you're looking into part-time programs, you may also be wondering how the coursework is structured, and how you can realistically balance working full-time with completing MBA coursework and other program requirements. We hear this question over and over again from applicants who are applying to part-time or executive programs, so no, you're not alone! We're going to break down the format of Kellogg's part-time program so that you get a sense of what to expect.
Kellogg Part-Time MBA Class Format
The Kellogg part-time MBA is a truly adaptable program. You can start during any one of their four quarters and take on a workload that fits your schedule and works around the other aspects of your life. Evening classes are available Monday through Friday from 6-9pm and weekend classes are held on Saturdays from 9am-12pm and from 1:30-4:30pm at Kellogg's downtown Chicago location. Pending availability, part-time students can even take weekday, daytime courses which they will share with full-time students at Kellogg's Evanston location.
Other Logistics
Kellogg's part-time MBA offers two different tracks for the pace and intensity of its part-time students. There is an option for a traditional pace which takes anywhere from five quarters to five years and has an average time of two and a half years. There is also an accelerated pace which requires having passed some courses prior to the program. It takes between one and four years with an average time of two years. This level of customizability makes one of the top MBA programs accessible to candidates that might otherwise not have been able to balance work and graduate school.
Kellogg Part-Time MBA Curriculum
The curriculum for Kellogg's part-time MBA program is centered around two cornerstone courses: "Leadership in Organizations" and "Business Strategy." Beyond these, there are eight core curriculum courses which will complete your MBA. Additionally, students can take elective courses to help fill out a major (concentration that represents your MBA focus) or select a pathway (series of courses that are tailored for specific jobs and industries). That said, a major is not a requirement for part-time MBA students, but it can help you tailor the direction of the elective courses you will take.
Part-time business school students also have the option of participating in Kellogg's experiential learning curriculum, which happens to be one of its most lauded features for full-time MBA applicants. These courses allow you to engage in team-based practicums that focus on applying classroom knowledge to real-world situations.
Should the opportunity arise, part-time MBAs at Kellogg will also have the opportunity to take advantage of its 70+ annual global opportunities, including an evening and weekend exchange program allowing students to live abroad. This is a great opportunity to add a global component to your part-time MBA.
Kellogg Part-Time MBA Application
Make sure to consult the application requirements for Kellogg's Evening & Weekend MBA Program, taking note of any deadlines. Below, we discuss the latest essays that are required as part of the application, and the part-time program interview process.
Kellogg Part-Time MBA Essays
As part of the application process to Kellogg's part-time program, you will have to complete two essays. These essays are intended for the AdCom to get to know you better. Here are the prompts for Kellogg's 2021-2022 application:
Essay 1: Kellogg's purpose is to educate, equip & inspire brave leaders who create lasting value. Provide a recent example where you have demonstrated leadership and created value. What challenges did you face and what did you learn? (approximately 450 words)
Essay 2: Values are what guide you in life and work. What values are important to you and how have they influenced you? (approximately 450 words)
Additional Information: If needed, use this section to briefly describe any extenuating circumstances in your application (e.g., unexplained gaps in work experience, choice of recommenders, inconsistent or questionable academic performance, etc.).
Kellogg Part-Time MBA Interview
All Northwestern MBA students, both part-time and full-time, must pass an interview for admission into the program. Kellogg MBA admissions interviews are conducted by alumni, admissions officers, and, occasionally, students. Kellogg offers an open interview policy, meaning that every applicant is eligible to be interviewed without waiting for a selective invitation. Interviews are currently conducted virtually and students can get in touch with the admissions office to schedule.
Video Resources on Kellogg Part-Time MBA Admissions
Why Kellogg?
Don't attend Kellogg unless you REALLY enjoy working in teams. All MBA programs involve teamwork, of course, but Northwestern Kellogg students report that the program is so centered around teamwork that you can "get tired of working in teams." It's good preparation for a corporate career where you'll be doing everything in teams, but is not for the lone wolf students who prefer to work independently.
In addition to the teamwork aspect of Kellogg's MBA programs, the flexibility of the part-time program is also unique. The option to pursue your part-time MBA either through Kellogg's traditional or accelerated pace also offers you a chance to tailor your education to something that is both versatile and manageable without leaving a job or putting other elements of your life on hold.
Lastly, Kellogg is a great business school that leads in diversity. Recently, not only did they welcome their third consecutive female Dean, Francesca Cornelli, the school also admitted its highest number of women (46%) to its full-time MBA class of 2020.
Kellogg Part-Time MBA Useful Links
*All data retrieved from the Kellogg Part-Time MBA Program webpages, unless otherwise stated.