Tepper Part-Time Accelerated MBA – A Speedy, Flexible Option
Carnegie Mellon University's Tepper School of Business is consistently ranked among the top ten schools for online and flexible degree programs. If you find the idea of an online program appealing—and if you want to enroll in a program that allows you to earn your diploma as fast as possible—then Tepper's Part-Time Accelerated option is definitely worth considering.
This resource page will give you more information on Tepper's Part-Time Accelerated MBA, and help you decide whether it is the right program for you.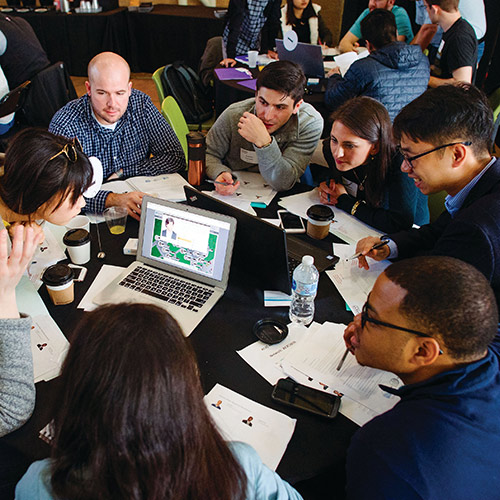 Background
One of the unfortunate facts of the MBA Application process is that not everyone can spare the time to pursue their program of choice. Some applicants can afford to take two years out of the workforce, but for some, this is simply not an option.
Of course, in an effort to take on the MBA without leaving their current position, some applicants will consider part-time MBA courses. However, in pursuing a part-time MBA, the applicant will end up taking more time completing the program than a traditional, full-time student—typically, a part-time MBA will last 2.5 to three years, but some students report taking up to five.
The beauty of the Tepper's Part-Time Accelerated MBA program is that a student can complete the degree in just two years while simultaneously attending to their professional career.
Program Structure and Content
The Part-Time Accelerated MBA is divided between online content and offline content. Each week, students will attend two online, live classes, which last 70 minutes. While offline, students can expect recorded lectures from the same professors who teach full-time students, assignments, and group projects.
With this structure, students get the best of both worlds—an in-person experience coupled with the flexibility of remote learning that they can do from anywhere.
While the amount of time this coursework takes will vary from student to student, generally, students spend around 3-5 hours per week on offline content.
The program is compacted by transferring credits for undergraduate coursework in modules such as accounting, finance, marketing, microeconomics, and operations. There are some stipulations to the program: the undergraduate degree must have been completed within seven years of beginning the program, and the student must have achieved a B grade or higher in any of the accredited modules. There are 12 units of functional area refresher coursework, which are completed in the first semester, so students will have their memories jogged!
Why Tepper?
If you're looking for an MBA that offers the flexibility of a part-time option without altering the timeline of the degree program, this might be the MBA for you. But why choose Tepper?
Community
Carnegie Mellon Tepper offers the most in-person coursework of any other online hybrid degree. Namely, students attend 6 Access Weekends, where they can connect with colleagues and faculty, attend classes, and take part in professional development activities. Access Weekends take place live on-campus, and nearly all Part-Time Accelerated MBAs attend, as it is a major highlight of the program.
Tepper also offers Part-Time Accelerated students access to the same clubs and extracurriculars as full-time MBA students, as well as opportunities to network with alumni and full-time MBAs. Part-Time Accelerated students also benefit from company visits, where they can interact with experts in their own industry.
Flexibility
While the coursework is flexible in terms of when students complete their offline work, Tepper also allows students to transfer between the Part-Time Accelerated program and the full-time MBA. Some students reportedly take on internships in summer after their first year and participate in corporate recruitment in the fall of their second year. Students can also take exemption exams in order to waive core classes in favor of electives that better fit their own career trajectories.
Access to other Tepper benefits
Tepper offers its Part-Time Accelerated MBAs one-to-one leadership coaching, professional career services, 40+ student clubs, access to an international alumni network, and career coaching from seasoned professionals.
Conclusion
In summary, the Part-Time Accelerated MBA program is designed for business graduates (or graduates who completed business coursework at undergraduate level) who want to complete their MBA part-time and within two years. The format is flexible both in terms of how the content is delivered and when you complete it, and in terms of how you choose to pursue your MBA.