Judge Business School—The Cambridge MBA Guide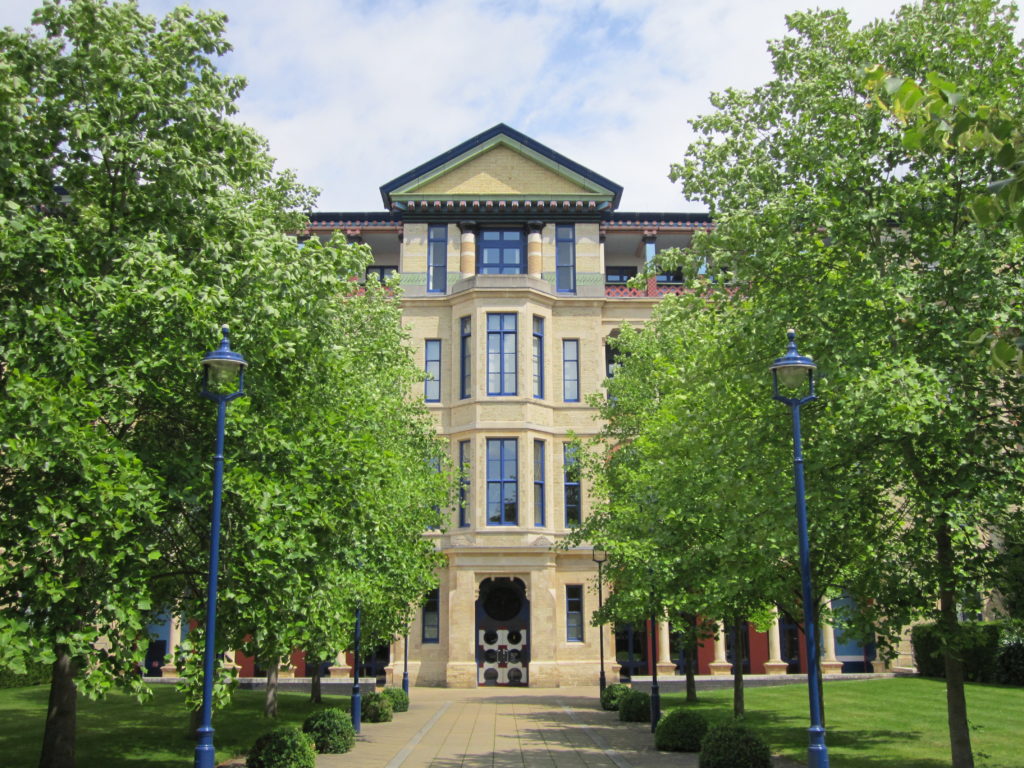 One of the world's oldest and most prestigious universities, the University of Cambridge has long been highly rated by students because of its academic rigor and vibrant student life. Comparatively new to other departments, the Cambridge Judge Business School was established in 1990, but its achievements are no less impressive.
Cambridge Judge offers an intensive one-year MBA program with a September start. Despite its short duration compared to most MBA programs in the United States, Cambridge Judge provides students with an engaging learning experience. During your study, you will immerse yourself with challenging courseworks, insightful discussions and stimulating experiential learnings. Cambridge strives to create a collaborative and innovative community in which students can explore, grow, and connect with each other.
Cambridge Judge MBA advocates entrepreneurship and creates a solid ground for students with entrepreneurial goals to explore and implement their ideas. The signature entrepreneurship centre aims to provide guidance and support to aspiring students from the beginning to the end. No matter if your entrepreneurial ideas just sprout or you have already established your business, the entrepreneurship centre can help you cultivate your plans or adjust your strategies.
With more than 90% of the class coming from outside of the UK, you can expect to be exposed to students from diverse backgrounds. Cambridge Judge encourages diversity and global learning experiences. The global consulting project that you will complete during your MBA program is an excellent example. During this team project, you can work with international companies, such as Google, WHO, and Mayfair Capital. If you hope to move to a different country upon the completion of your study, Judge MBA's historical data shows a favorable trend. Almost half of the graduates stay in the UK and over 60% of graduates switch countries to the ones that are different from their pre-MBA countries.
Cambridge MBA Class Profile
Class Size
210
Acceptance Rate
Does not disclose
GMAT Median
Does not disclose
GPA Minimum
Does not disclose
Average Age
29
Avg. Years Work Experience
Does not disclose
Diversity Women
47
Diversity Intl.
Does not disclose
Pre-MBA Industries
Industry: 49%
Finance: 26%
Consulting: 17%
Other: 8%
Undergraduate Majors
Business/Accounting/Finance: 34%
STEM (Engineering): 25%
Economics: 14%
STEM (Other): 13%
Social Sciences: 9%
Arts: 5%
The data above is from 2022 and represents the Cambridge Judge MBA class of 2023.
See the full report: Cambridge Judge Class Profile
Student Experiences
Cambridge MBA Employment Report & Careers

Salary Average
$161,007.00
Offers Upon Graduation
Does not disclose
Offers At 3 Mos.
94
Post-MBA Industries
Consulting: 25%
Finance: 30%
Public sector|NGO|Other: 3%
Industry – Internet|eCommerce: 11%
Industry – Healthcare|Pharma|Biotech: 5%
Industry – Technology: 10%
Industry – Consumer Products|FMCG: 2%
Industry – Arts|Entertainment|Media: 2%
Industry – Other: 12%
Post-MBA Locations
United Kingdom: 60%
East Asia: 15%
South-East Asia: 9%
North America: 8%
Western Europe (excl. UK): 3%
South Asia: 2%
Australia: 1%
Middle East & North Africa: 1%
Latin America & Caribbean: 1%
Post-MBA Companies

Does not disclose

Career Development Resources
Cambridge Judge Career Development
*The data above is from 2022 and represents the career statistics for the Cambridge Judge MBA class of 2021.
See the full report: Cambridge Judge MBA Employment Report
Cambridge MBA Academic Programs
MBA Curriculum
The Cambridge Judge MBA curriculum lasts 12 months, which consists of four terms, namely, Michaelmas Term (October to December), Lent Term (January to March), Easter Term (April to June) and Summer Term (June to September). The Michaelmas Term is primarily dedicated to core courses, such as entrepreneurship, management science, financial reporting and analysis. Students have a combination of core courses and electives during the Lent Term and the Easter Term. The Cambridge Judge Business School offers a great variety of electives, covering topics from finance and strategy to philosophy in business and entrepreneurship. During the first three terms, students work on one assigned project each term. When the Summer Term comes around, students should have already completed all the courseworks, and they will have the option to choose between an individual project, a work placement, and a research paper.
Core Curriculum
Entrepreneurship
Management Science
Corporate Finance
Financial Reporting and Analysis
Microeconomics
Organisational Behaviour
Management Praxis I
Strategy
Marketing
Corporate Governance: Organisations
Digital Business
Management Praxis II
Macroeconomics
Operations Management
Business & Society
Elective Curriculum
See the full list: Cambridge Judge MBA Electives List
Majors
In lieu of majors, Cambridge Judge offers elective concentrations. The current offerings include the following ten concentrations:
Culture, Arts and Media Management
Digital Transformation
Energy and Environment
Entrepreneurship
Finance
Health Strategies
Global Business
Marketing
Social Innovation
Strategy
Experiential Learning Programs
Research Centers
It comes as no surprise that Cambridge Judge Business School has a great variety of research centers and even more to offer for academic collaboration across the University and beyond. MBA students have access to 19 research centers covering topics ranging from Financial Reporting & Accountability to Social Innovation. There are also 8 interdisciplinary centers that are available to MBA students that you can gain insights from different perspectives in related fields.
Video Resources on Cambridge Judge Academics
Cambridge MBA Application
As an engineer who lived in Canada, spoke fluent French, spent time in Switzerland growing up, and wanted a diverse, multicultural higher education experience, Sophie honed in on European MBA programs. An engineer by trade, and having also worked in sales and marketing, she hit a point in her career where she knew that she'd reached a limit of what she could learn on the job.
Hear how she navigated the MBA application process and ultimately won a spot in the Cambridge Judge MBA Class of 2021.
The latest application requirements set by the Cambridge Judge MBA admissions office are described below.
Essays
Here are the prompts for Cambridge Judge's 2022-2023 application:
Career Goals

Career objectives. Please provide details of your post-MBA career plans. The statement should not exceed 500 words and must address the following:

What are your short and long-term career objectives? How will the Cambridge MBA equip you to achieve these?
Looking at your short-term career goal, describe the research you have done to understand how this industry/role/location recruits MBA talent and what they are looking for in a candidate?
How do you meet the requirements of your short-term career goal? What preparation are you doing now?

(text box, 500 words)
Difficult Decision

Essay question 1. Describe a difficult decision that you had to make. What did you learn from this and how have you changed as a result? (text box, up to 200 words)

Teamwork

Essay question 2. Describe a time where you worked with a team on a project. What did you learn from the experience and how might you approach it differently today? (text box, up to 200 words)

Advice To 18-Year-Old-Self

Essay question 3. If you could give one piece of advice to your 18-year-old self, what would it be? (text box, up to 200 words)

Previous Jobs

Work experience. Previous roles/promotions. Previous roles/promotions at your current company – including dates. (text box, maximum 150 words)

Current Job

Work experience. Primary responsibilities. Describe your primary job responsibilities;

1. type and size of internal and external teams with which you work or supervise

2. type and number of clients or projects you manage;

3. size of budget or revenue for which you are responsible;

4. international experience or exposure

(text box, 250 word limit)

Career Challenge

Work experience. Challenge. What has been your most significant professional challenge? (text box, 200 word limit)

Career Accomplishment

Work experience. Accomplishment. What has been your most significant professional achievement? (text box, 200 word limit)

Reapplicant Essay

Essay question 4. Additional question for re-applicants. Describe any relevant developments since you last applied to the Cambridge MBA? (text box, up to 200 words)
Video Resources on Cambridge Judge Admissions
Cambridge Judge MBA Admissions Interviews
The MBA admissions interviews at Cambridge Judge Business School are typically conducted either on campus or via Skype. When it comes to on-campus interviews, Cambridge hosts a two-day event for short-listed candidates who are invited for the interview. Other than the actual interview with a faculty member, candidates will be greeted by a formal dinner, some information sessions and a guided tour of campus by current students. In-person interviews are recommended if you want to network with current and prospective students and learn about college life at Cambridge. If you prefer not to travel to England, you have the option to complete your interview online. The content and the structure of the faculty interview is comparable whether you choose to do it in person or online.
Cambridge Judge Useful Links
What Makes Cambridge Judge Unique?
Rigorous One-Year Program: Lasts only one year, the intensive Cambridge Judge MBA program is an ideal choice for people who want to return to work quickly whilst enjoying living abroad and experiencing British culture.
Academic Depth with a Practical Focus: Cambridge Judge MBA curriculum is designed to foster a deep understanding of business, explore your interests and sharpen your interpersonal and leadership skills. With an emphasis on practicality, Cambridge's MBA program challenges you professionally whilst providing you with a highly collaborative community in which you can develop and connect.
Entrepreneurship: For people with aspirations in entrepreneurship, Cambridge Judge could provide you with an exceptional ground to develop and excel. Cambridge has an entrepreneurship centre, which is devoted to inspire students and guide them through their entrepreneurial journey.
Global Experiences and Influences: With Cambridge recruiting its MBA students internationally, you can expect a highly diverse cohort. Despite having over 90% of students from outside of the UK, that is not the only thing Cambridge's diversity entails. You can expect to meet students from different cultural as well as professional backgrounds which will stimulate informative discussions and enrich your understandings. In addition, 64% of Judge MBA students switch countries with the majority of them continuing living in the UK.
*All data retrieved from the Cambridge Judge Business School MBA Program webpages, unless otherwise stated.