Columbia MBA Employment Report: Updated for 2022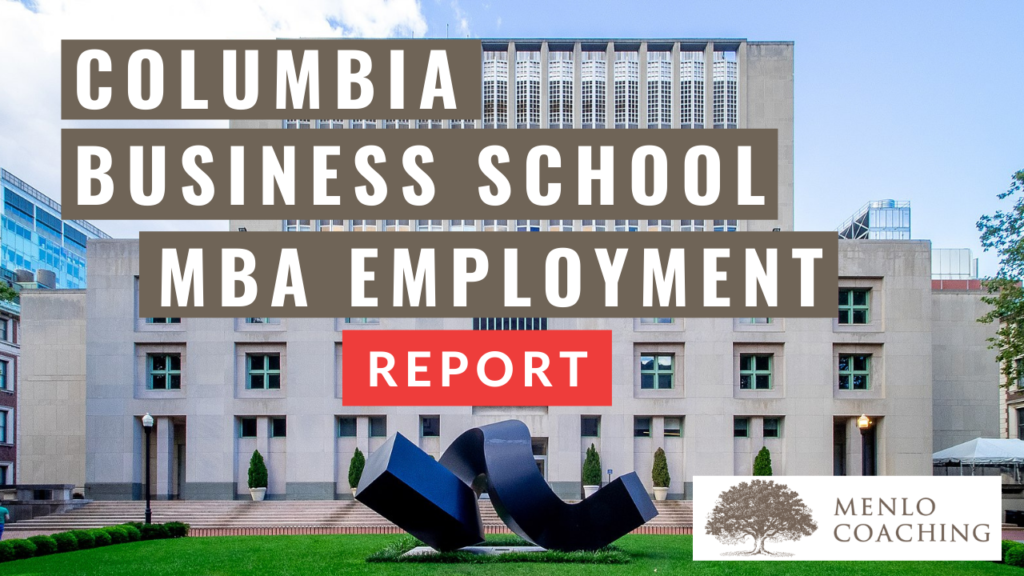 Are you looking to apply to an MBA program? Not sure which one aligns best with your career goals? Look no further, for this article will give you all the need-to-know information and statistics regarding the most recent graduates from the Columbia MBA Program.
Business schools publish data on their most recent graduates every year, and we have compiled that information – along with our own analysis of it – to offer you a summarized look at the success of those who've graduated from the Columbia business program. To give you an idea, 94% of students who graduated in 2021 received job offers three months post-grad, including (but not limited to) companies such as McKinsey, Boston Consulting Group, Amazon, and Bain & Company.
With the convenience of a New York City campus, Columbia offers many different opportunities to connect with real-life senior industry professionals, along with in-semester internships partnered with NYC-based companies. Interested in pursuing a business career in China? No worries! Columbia has an active program for that, too.
On this page, we'll explore the most important employment data on Columbia, including top industries, job locations, post-MBA employers, and compensation trends. Keep reading for a look at our thoughts, gathered from a combination of both official and unofficial sources.
Columbia Business School MBA Employment Report and Careers
Salary Median
$180,000.00
Offers Upon Graduation
Does not disclose
Offers At 3 Mos.
94%
Post-MBA Locations
Does not disclose
Post-MBA Industries
Financial Services: 36.0%
Commercial/Consumer Banking/Credit Cards: 2.5%
Investment Banking/Brokerage: 16.3%
Investment Management
Fund of Funds/Hedge Funds/Mutual Funds: 3.5%
Private Equity: 4.1%
Venture Capital: 3.1%
Other Investment Management: 6.3%
Other: Less than 1%

Consulting: 33.4%
Strategic/Management: 31.7%
Other: 1.7%

Media/Technology: 17.0%
Entertainment (Film/Music/TV/Sports/Leisure): 1.9%
Fintech: 1.2%
Hardware/Software/Telecom: 2.5%
Internet Services/E-Commerce: 10.8%
Other: Less than 1%

Manufacturing: 4.1%
Consumer Products-Beverages/Food: 1.7%
Consumer Products-Luxury Goods: 1.2%
Other: 1.2%

Other: 9.5%
Education/Government/Nonprofit: 1.4%
Healthcare (including Pharmaceuticals): 2.3%
Real Estate: 4.5%
Other: 1.3%
Post-MBA Companies

McKinsey & Company: 55*
Boston Consulting Group: 35*
Amazon: 26
Bain & Company: 23*
Deloitte Consulting: 16*
Goldman Sachs: 13
Google: 11
Credit Suisse: 9
Bank of America: 8
Citi: 8
J.P. Morgan Chase & Co.: 8
Morgan Stanley: 7
American Express: 6
Evercore Partners: 6
EY-Parthenon: 6
Deutsche Bank: 5
PwC Strategy&: 5
T. Rowe Price: 5
AB Bernstein: 4
Alvarez & Marsal: 4
L.E.K. Consulting: 4
Lazard: 4
Apple, Inc.: 3
Estee Lauder Companies: 3
Kearney: 3*
Moelis & Company: 3
PJT Partners: 3

Career Development Resources
The data above is from 2021 and represents the career statistics for the Columbia MBA class of 2021.*
See the full report: Columbia MBA Employment Report
In 2021, 94% of Columbia MBA graduates reported receiving a job offer three months after graduation—up 4% from the 2020. The class' median base pay is $150,000, with a salary range of $200,000 to $300,000 followed with a solid median bonus of $30,000 this year.
Moving from the second most popular industry for Columbia grads in 2020, the financial services industry benefited the most from CBS MBAs in 2021: 36% of graduates opted for a career in finance. Consulting maintained its steady, high proportion of Columbia graduates and attracted 33.4% of the class, with the highest median salary of $165,000 in management consulting. Technology and media accounted for 17% of graduates, real estate accounted for 4.5%, and manufacturing rounded out the top five with 4.1%.
Consulting, technology, and financial services are the most popular industries among Columbia MBAs, with two-thirds of students working in these fields. McKinsey & Company, Boston Consulting Group, Amazon, Bain & Company, and Goldman Sachs were among the top employers of Columbia MBA graduates.
Columbia Business School Career Management Center
The Career Management Center (CMC) at Columbia provides extensive assistance to students pursuing an internship between their first and second years. Internships are a great way for many students to gain experience in a new, desired industry or work function and to position themselves to thrive after they graduate from Columbia. Geffen Hall is transformed every fall and January for On-Campus Recruiting season for full-time and internship positions, respectively. Many employers will conduct interviews on campus, MBA students will swap their cluster tees for business suits, and all of the training and resources the CMC has provided you in the previous months will begin to pay off once you step into that interview room.
Throughout the year, the CMC also assists students with their enterprise job search — those who actively seek full-time or internship opportunities. As this type of recruiting intensifies in the spring semester, the CMC assists the students through weekly meetings, one-on-one advising, alumni panels, and other resources, such as:
Individual career advising
Resume review and interview preparation
Career workshops
Web-based resources for self-assessment and company research
Access to Columbia's unique Executives in Residence program