2022-2023 MBA Essays: Tips for Cox Southern Methodist University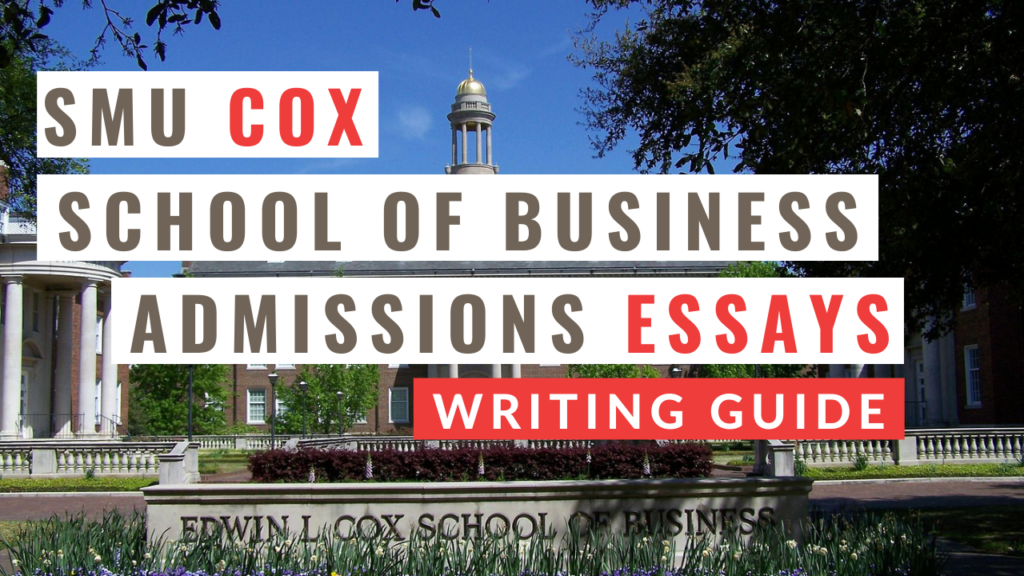 This year's MBA application prompts aren't out just yet, but it never hurts to start brainstorming what your topics will be. Wondering where to start, what to write? No worries, we have all the tips you need to get a nice start on writing a quality essay for the Cox School of Business of Southern Methodist University.  
At Cox, a committee of senior faculty and administration created a curriculum that prepares their students for their future, not just the first job post-grad. Work environments are dynamic and ever-changing, and the NextGen Cox Curriculum aims to prepare students' ability to adapt to these circumstances. Through the story you relate in your essay, the admissions council is looking to see if you reflect the same values that the school does. Cox admissions counselors are looking for students who are able to lead globalized teams with authenticity and vision. The best way to represent that you possess those qualities is through the type of essay you choose to write.
It's crucial to pick the right experience to discuss in your essay, and the different types of prompts help narrow that down for you. Keep reading for a closer look at the different types of essays, and how best to utilize them in order to write a stand-out essay for Cox School of Business.
The Career Goals Essay
You're not the only one hoping you'll have a job after you've graduated with your MBA. Admissions committees are looking for students who are motivated and clear in their intentions so that when they get a job post-grad, they'll be more willing to speak positively of their experience in the program. And, of course, in the hopes that their alumni will earn enough money to become a donor to the school one day.
There are three aspects to the career goals essay:
What you want your future profession to look like.
Why an MBA is necessary to advance your career.
Particularly, why a degree from SMU Cox will be most beneficial to you and your job plan.
Your aspirations need to be convincing, ambitious, and realistic. Cox is looking for applicants who have meaningful goals grounded in their past experiences, and it's important that you relate that notion in your essay, however it applies to your experience in life. Here are some prompts from last year:
Career Goals


Required Essay 1: Please describe your immediate post-MBA career goals, including the target industry, sector, and/or organization. Why are you interested in pursuing a career in this particular area? (250 word limit).

Required Essay 2: Each candidate is unique. Please outline your top expectations for your MBA program and why SMU Cox would be a great partner in assisting you to achieve your professional development and career goals (250 word limit).

Required Essay 3: One of the three pillars of the SMU Cox MBA program is Data Analytics. We are committed to helping all students develop skills in data analysis and to further develop an analytical mindset. Please answer one of the following prompts (500 word limit)

a) Please describe how you have used data to solve a complex problem, including how you communicated your solution to others.
b) If you have limited experience with analytics or quantitative work, please use the following question: Explain how you are prepared to succeed in a quantitatively rigorous program.
Conclusion
Writing strong, coherent, genuine stories is an essential part of your MBA application. These essays are meant to help you stand out among many other applicants, so it is worth your time to do the work and write about situations unique to your life and that you truly learned from. Visit our process page to understand how Menlo Coaching can help you with your MBA essays for Cox School of Business.